As part of our founder interview series, we speak with Ben and Tom Grass from Grass & Co. about the creating holistic remedies featuring the restorative properties of natural botanicals.  
People will be surprised to learn that Grass & Co. is run by two brothers! What inspired you to team up and create Grass & Co. together?
Ben Grass: We have both worked together previously on a number of film and television projects. My background is in management consultancy and latterly producing movies; Tom has a background in advertising and creative writing.
We bring complementary skills and the shorthand we have as siblings can really help when working in a very fast-moving start-up.
Tom Grass: I've long been interested in holistic wellbeing and herbal remedies so the idea of enhancing CBD's potential in combination with other plants came from this. Ben and I have always enjoyed micro-adventures; we used to go hiking a lot together when were younger. Engaging with the natural world is the best therapy of all.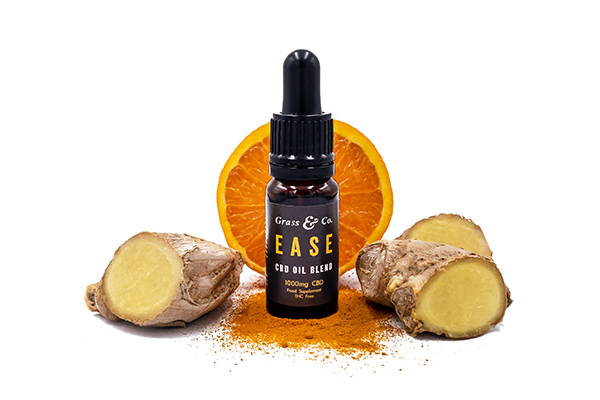 CBD is still slightly controversial. What would you say to someone who might be surprised to find a CBD range on MAMOQ?
Ben: I would say that its worth remembering that CBD doesn't get you high in any way. CBD is a wholly natural plant-based product and our CBD oils contain no trace of THC. The category is still relatively new, but all our CBD products are totally legal to buy, consume and supply in the UK and most EU countries.
It's been helping millions of people around the world for thousands of years and definitely worth considering as part of any wellness routine!
Tom: At Grass & Co we've built a team who shared our values around transparency and honesty. It's this ethical approach, with a focus on educating people that has helped us build trust with our consumers.  

For someone who is new to CBD, do you have any advice on how they might start their journey?
Ben: As with all supplements, no one size fits all when it comes to CBD dosing. It's essential that you look for brands, like us, that are transparent about their ingredients and openly publish test results. See what works for you, and enjoy the journey!
Tom: 'Start low and go slow' is our best advice when starting out with CBD. See what dosage works for you then adjust accordingly. Keeping a journal is a good way to note how you're feeling and track the benefits you're experiencing. Try and keep to a daily schedule and keep track of your CBD intake, then you can adjust your dosing accordingly.
How do you ensure that the ingredients you use are sustainably and ethically sourced?
Ben: We work hard to ensure that all our suppliers meet rigorous tests in this regard. All our products are 100% natural, ethically sourced, organic. The range is made in the UK and completely THC, paraben and sulfate-free, as well as being vegan and forest friendly.
Beyond the ingredients you use, what steps do you take as a company to reduce your environmental footprint?
Tom: All our packaging is recyclable, and our purchasing and supply chain decisions are very much motivated by environmental considerations. Closer to home – the team all try to cycle or walk to work! The team are extremely passionate about the environment and the natural world and are always looking for ways to give something back.

What is your favourite item in the collection and why?
Ben: I love our EASE Body Oil. I am a keen Squash player, and love to use it on sore legs following tough games!
Tom: I don't sleep well and my experience with herbal remedies, valerian and hops helped to inform the formulation of our CBD Consumable Oils, so I would choose our CALM 1000mg oil.
What do you look for in other companies that you support?
Both: Integrity, authenticity, and product excellence.
What advice would you give to someone who might be working through a high-stress time?
Tom: CBD can offer many natural, uplifting benefits that go hand-in-hand with yoga and exercise to help reduce stress, improve relaxation and increase your overall sense of well-being.
Finding flow in gentle yoga or regulating your breathing jogging is sometimes easier than trying to sit still and meditate when your monkey mind is rattling its cage.  
Ben: Try CBD in your life. It's a very natural way to combat stress and restore balance.

What has been the most surprising part of running a sustainable business as brothers?
Ben: Being sustainable doesn't have to be harder. It is incredibly rewarding for us, the brand and our customers.
Tom: Paying it ahead ethically and taking the long view has been recognised and rewarded by our customers who are so passionate about sustainability.
Lastly, how would you like to see Grass & Co. grow?
Ben: We're building a trusted brand in the UK by creating products with great care, rigorous safety standards and by really looking after our customers.
Tom: And, we're already seeing that powerful word of mouth recommendation will bring our products to more and more people.