As part of our founder interview series, we speak with Thami Schweichler from Makers Unite about creating community through design, and designing for community.  
What is the story behind Makers Unite? How did it come to be?
Makers Unite started as a collective action to raise awareness about social inclusion in The Netherlands. Together with newcomers and locals we organised a campaign called "Re-Vest Life" where we designed, produced and sold ribbons made out of life-vests recovered from Greek shores. The campaign drew a lot of attention during King's Day 2016, in Amsterdam. We learned that by bringing newcomers and locals together to 'make' we can learn from each other and find new opportunities. This was the beginning of our social inclusion program, which is based on what we call "the power of making".
What is the Makers Unite Social Inclusion Programme, and how does it differ from other refugee support groups?
The Makers Unite Program, or MUP, is a 6-week talent development track based on the collective making of sustainable products. We use the time of making to get to know each other and share creative workshops with newcomers. Participants learn how to develop their CV, portfolio and video pitches to employers. We have sessions about soft-skills and local habits and lately we included a 'creative challenge' section in the programme. Where participants get to experience the professional environment of Amsterdam-based companies.
We believe that newcomers are the chiefs of their future and they know what's best for their lives ahead. Our role is simply giving them the opportunity to make use and share their talents. This is a key difference with programs in place (governmental or not). Our work is not based on systems, but on people. Because people are not numbers and their goals and ambitions need to be heard and cared.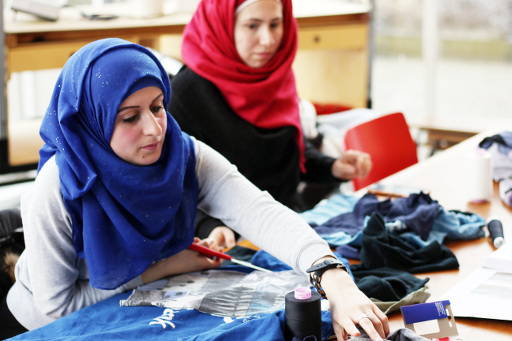 Makers Unite helps to find refugees more permanent work after completion of the programme. How did you establish a network of willing employers and organisations?
Our network lies mostly in the creative industry because this is our background (designers and creatives). We have established partnerships with the national council of designers (BNO) and have a cultural program dedicated to share the work of our participants with the Dutch Crafts Council, Amsterdam Fashion and the Stedelijk Museum, amongst others. The visibility and transparency of our projects help to bring new organisations into our network, so little by little we can offer more chances to our participants.
How many Makers have gone through the programme, and what do their lives look like now?
So far, we have provided the program to more than 80 newcomers directly and workshops, events and cultural activities that reach out to hundreds. What we remark the most is their growth in self-confidence and the ability to articulate their next steps for achieving their goals. 80% of our participants have been connected to work, education or voluntary programs. Above all, participants of our program share our understanding of an inclusive society, where everyone has an equal right to opportunity.
While the focus is on matriculating refugees and newcomers, how do you think Makers Unite impacts the local makers and community?
Our products are the vehicle to share our stories. We believe their greatest way of leveraging our positive impact in the local community is by sharing what we stand for and letting the public understand the quality of the people who made them. Local makers also take benefit, as they are often part of our programs. Designing products, giving workshops or simply volunteering in our activities. We are keen to share that makers unite benefits both newcomers and locals.

Makers Unite uses life vests worn by refugees to create your product range. Why did you choose this very symbolic form of up-cycling?
At Makers Unite everything is co-created. The decision of working with life-vests is fruit of co-design sessions with newcomers and locals. We learned that life-vests are a symbol for hope. That they represent the crossing newcomers make towards a new life. Our decision to up-cycle life-vests combined our goal of creating awareness in host-communities in combination with the need to provide a solution to environmental damaged caused in Greek shores.
Ethical fashion is an extremely broad topic. How do you interpret the definition of 'ethical fashion'?
We stand by values of a more sustainable and inclusive world that are reflected in our products and the way we work. Ethical fashion for us is being able to create positive change by bringing new products to the markets that not only contribute to a sustainable footprint but also influence our public to re-think the way they consume, who makes their products and what happen in the value chain of the product they hold.
What is the most challenging part of working on this project?
Makers Unite is made of several layers from production to product development but also talent development programs and cultural events. We propose a different model where social entrepreneurship is the way we work to provide solution to the challenge of inclusion. Our biggest challenge in the coming years is to be able to increase our commercial revenue so we can be closer to self-sufficiency for impact.

Aside from supporting Makers Unite, what advice do you have for people wanting to help local refugee communities?
I always say that if you would like to create positive change, don't think too much. Start by doing what you are good at, right now. The big picture of migration will only shift for good when we globally understand our share in the responsibility of the situation. The good news is that if each one of us does this simple, local but honest act, we can seriously change the way things are today.
How would you like to see Makers Unite grow in the future?
We would like to see Makers Unite growing as an international organisation that provides connections for newcomers to thrive in host communities globally. We value products that contribute to communities. Design that is about a great look & feel and social impact. We want to grow with-and for-people, while always being considerate to the environment.