As part of our founder interview series, we speak with Tansy Haak from KIND Jewellery about her journey into ethical jewellery making.
How did an adventure through Europe, India & Sri Lanka inspire Kind Jewellery?
The time away gave us time to breath, reimagine our goals and dream up a life where our priorities sat centre stage. For me that was being hands on and having the chance to work creatively. KIND was born on the Sri Lankan shores and I haven't looked back. I return each year to design the new collections and this year I am excited to be visiting a ethically run sapphire mine there to source stones for the coming collection - launching this summer.
How does your background in sculpture influence you as a jewellery maker?
As an artist I worked predominantly in metal, making large scale aluminium and copper sculptures, so it felt very natural for me to move into jewellery design & making. Metal is a beautifully versatile material and the understanding I gained from working with it as a sculptor has influenced my approach to it as a medium.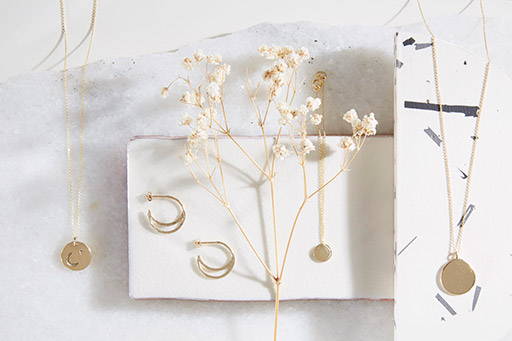 Where do you find your design inspiration?
KIND's Signature designs are mostly inspired by the natural world. The collection draws on those big power sources that energise so many of us, The Sun, The Moon, The Stars & The Elements. In contrast their simplicity reflects the clean lines found in the urban landscape that I live in day to day.
Which raw materials do you work with, and how do you choose them?
KIND jewellery is made using recycled Silver, 9ct Yellow Gold & 9ct Rose Gold. We support fair-trade gold by using it for the 9ct yellow gold chains in the new collection & wherever 100% recycled metal isn't available we use suppliers who are audited by the responsible Jewellers council. All our current suppliers are based in the UK which enables us to build long lasting relationships with them.
Sourcing ethically & environmentally sound materials is an ongoing process. The brand is constantly evolving as I learn more & explore new and exciting ways of working.
Do you have a favourite go-to piece in the collection?
I'm all about the classics right now so I layer up my Full Moon Disc with a Gold Horizon Bar, which is doodle engraved with my daughters' name. They work perfectly day to night, and are so wearable that I find it hard to take them off.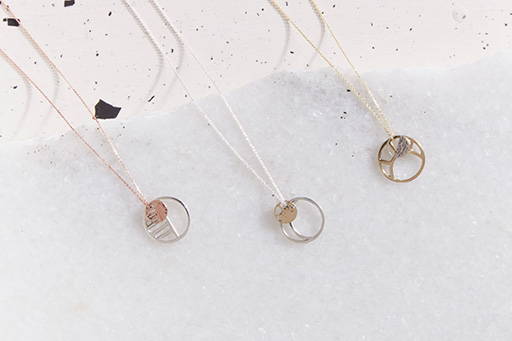 You make every piece of jewellery by hand in London. What does an average day look like for you?
I've never been one for routine so by design my days are the epitome of organised chaos! I tend to get up and bundle Isla and our mad dog Pablo out for a walk (and a strong coffee from our local coffee shop!)
When I get home I catch up with emails, social media and prepare what needs to be done for orders to be sent out. In the afternoon/ early evening I get out into the studio and set about making orders and finishing off wedding ring and private commissions.
Each year I try to block out a longer period of time (often whilst we are travelling) to design the new collections, explore potential collaborations and make plans for the year ahead.
It's a fluid way of working, taking moments when I can whilst enjoying hanging out with my little bub.
The growing concept of ethical fashion can be quite difficult to define. What does 'ethical fashion' mean to you?
The KIND ethos is to collaborate and grow, be confident and bold and above all to look after our planet and the people who we share it with. Each part of KIND leads back to sustainability and how we can consciously minimise the impact our actions have on our earth. All pieces from the KIND collection are handmade by myself using recycled and responsibly sourced Gold and Silver. Using local suppliers and supporting independent business helps support our community and we offset our carbon footprint by donating to The Woodland Trust each month.
I agree that the concept can be difficult to define and the lines can become blurry but I ultimately believe that it is the intention to constantly improve practices, promote positivity and drive conscious decision making to our customers.

How has the ethical landscape in the jewellery industry changed since you started the brand & what would your advice be to other designers just starting out in the industry?
When I launched KIND in 2016 it was a real challenge to find suppliers who could offer full transparency. Now, 2 and a half years on, the demand for fairly made products using responsibly sourced materials has increased and it feels like there has been a real breakthrough.
The key to sourcing sound materials is to get out there, visit the mines, build relationships with suppliers you trust and don't be scared to ask questions.
How do you try and live a "KIND" life in your everyday life?
My motto is to treat people how you would like to be treated yourself…Respect each other and be KIND to one another, I'm a great believer in Karma, so what your send out into the universe will find its way back to you in one way or another.
How would you like to see KIND Jewellery grow in the future?
I see the brand continuing to grow organically. I am excited to be launching the MAN KIND collection in late spring and to incorporate fairly mined Sri Lankan sapphires into the designs.