As part of our founder interview series, we speak with Sam Whitten from Hemp Eyewear about the 'World's First' hemp eyewear brand.
What inspired you to launch Hemp Eyewear? What were you doing before?
It started as a uni project to find and design with the most sustainable material in the world. I discovered industrial hemp so I then looked at a product category in which it would be a 'World First'. Hemp Eyewear was born from this.
What does a regular work day look like for you now?
Anything and everything - working in the workshop, attending business meetings and growing the business.

Why did you decide to exclusively work with hemp for your collection? What properties does it have that make it well suited for eyewear?
The main drive was to see if we can replace plastic and other fossil fuel-based products in the eyewear industry. Our solid hemp is a very strong, lightweight material which is perfect for eyewear and the natural aesthetic of the hemp fibres in the frames makes each pair a bespoke piece.
Why is hemp such a sustainable material? Does it require significant processing to create your frames?
The organic hemp crop is eco-friendlier and faster-growing than wood and cotton as it can grow almost anywhere in the world on poor soil and takes only 3 months to grow. During the growing process it requires very little water, no pesticides, herbicides or insecticides; it absorbs CO2; it doesn't cause deforestation; the list goes on... Additionally farmers like to use it as a rotational crop as it helps to replenish the soil with nutrients.
There was no template for working with this material to produce a solid material, so it has taken 3 years of research and development to achieve the high quality we now have in our frames. Our frames require elements of hand-crafting, mixed with the sustainable technology we have developed.
Ethical fashion is an extremely broad topic. How do you interpret the definition of 'ethical fashion'?
The business is run on the concept of having a triple bottom line: so for every decision we make we take into account the environmental, social and financial impacts. There are so many areas where business practices and physical products may touch a variety of people around the world, so it is important to engage with and consider the impact on every one of these stakeholders and the environment where they live.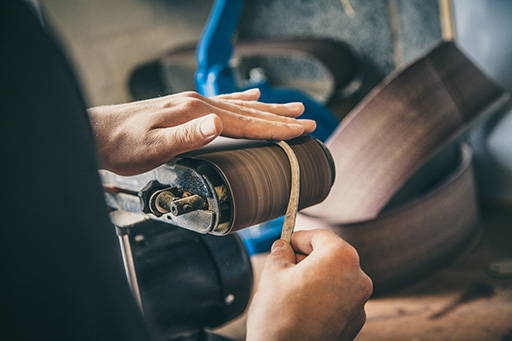 How does Hemp Eyewear embody your definition of ethical fashion?
The target is to create a beautifully designed product which protect eyes from the sun's harmful UV rays, and to make that product have the smallest environmental impact possible ensuring that every person throughout the entire supply to distribution chain is treated fairly and equally. The challenge is doing all this whilst remaining a financially viable business. Our material choice is one of the most sustainable on the market which is a great starting point but as we are a small company we still have a lot of work ahead of us.
Green-washing is a massive issue in all industries. Our view is that the only way to combat this is to be as open as possible with our achievements and our areas to improve. So we have a big upcoming project, with the help of Scottish sustainability consultants, to trace the complete life cycle of our product and business practices. The main objectives are to measure the environmental impact of our entire business, then make this data freely available on our website and subsequently work on improving our performance.
How do you ensure that Hemp Eyewear is fairly produced throughout the entire supply chain, from crop to makers?
We keep a close eye on the manufacturing process of the frames and the wellbeing of our staff as all our frames are produced in our workshop based in Edinburgh.
Currently we are working to establish the sources of all the materials and components that go into our products to ensure that they hold strong ethical values and can prove their claims. Our components are all engineered with precision by well-respected companies, but we want to delve even deeper into their sustainability practices.

What role do you think consumers play in shaping the future of the fashion industry for the better?
The choices made by the consumers are essential for the future of strong ethical standards in the fashion industry. However in order to make these choices they must be able to find honest information about the products they are buying to make an informed decision. There is increasing consumer awareness of ethical fashion and it only seems set to grow.
Each of your frames has a unique name. Where do you find the inspiration for each of the names?
The names are inspired from different places, music, hemp and cultural influences. For example Woody Harrelson is a huge hemp advocate so we named a frame after him. Hamburg is inspired by John Lennon as he named one of his guitars with the same name.
How would you like to see Hemp Eyewear grow in the future?
We believe that the future is made from hemp! So many ideas are in our sketchbooks for future products made from this marvellous material. Currently we are designing prototypes of the next product line which will be made from our eyewear waste material.