As part of our founder interview series, we speak with Rosie Cook from Deakin and Blue about her mission to create swimwear that is supportive, functional, and confidence-boosting.
What inspired you to launch Deakin and Blue?
I set up Deakin and Blue after my own fruitless search for swimwear that I felt amazing in. About two years ago I was shopping for a swimsuit for my weekly swim. I was looking for something flattering and feminine that I would feel good in, but that was also supportive and functional – so it would stay in place as I swam my lengths and dived into the water. I was also looking for a piece that was pretty enough to take on holiday for water sports activities, such as a diving trip or paddleboarding class.
I searched high and low, online and offline, in specialist swim, lingerie and sports shops but struggled to find anything that met my requirements. After talking with a number of girlfriends with different shape and size bodies I realised this problem wasn't unique to me and so I decided to take the plunge and solve the problem myself.
What is the design inspiration behind Deakin and Blue?
We sit at the intersection of sport and fashion and develop simple designs that flatter the female body, regardless of your shape or size. We think extensively about the cut of our swimwear – leg height, body length, bust support etc. as well as colourways, fabric look and feel, and practical considerations such as ensuring our fabrics are chlorine resistant and colour fast.
Our first collection was particularly inspired by fifties cuts and styles which enhance the female silhouette. Our first collection and some of our signature pieces include high waisted knickers and sweet heart necklines, for example.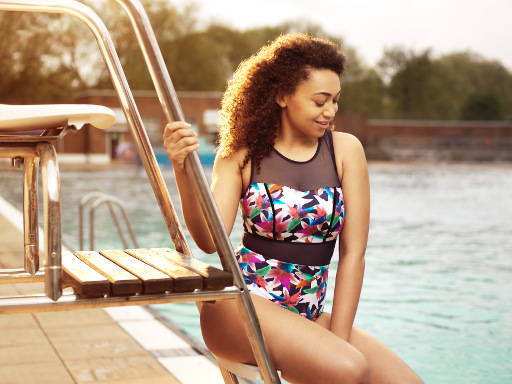 We love your unique sizing guide that is named after famous beauties. How did you develop this idea?
Thank you! As a brand we feel a responsibility to help women feel fantastic about their bodies and we believe the language we use is really important in that process. We know that few people feel excited or inspired buying an "extra large" or an "extra small" and even words such as "curvy" can feel loaded. Instead, at point of size selection we want to remind our customers of beautiful women with similar body shapes to them who are celebrated for their glamour, elegance and femininity. We selected three gorgeous women from history (Audrey Hepburn, Marilyn Monroe and Christina Hendricks) as muses for our brand and named our sizing after them.
"Ethical fashion" can be extremely vague –what is your understanding of "ethical fashion"?
It's a great question and the phrase tends to be thrown about a lot. To us, ethical fashion means ensuring that at every stage of a fashion business, from product design through to customer service, a brand is upholding ethical values – operating safely, responsibly and fairly. This can and should inform everything from their internal pay structures and hiring, to the safety of the materials used, the environment their employees work in, the transparency of their supply chain all the way down to the environmental and social impact of the brand.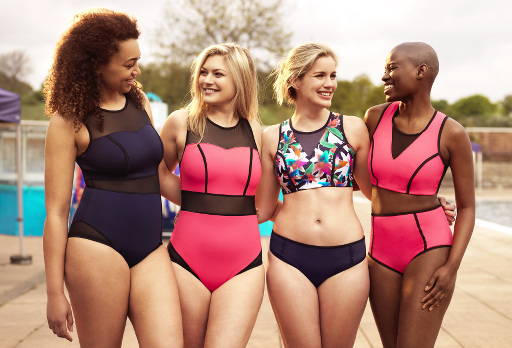 How do you think Deakin and Blue embodies your vision of ethical fashion?
We are proud to be a business which makes a positive environmental, social and ethical impact.
All our swimwear is made from ECONYL® - a 100% regenerated nylon fibre made from fishnets and other nylon waste. So our cossies are ocean-friendly too!
We believe in honest quality and in knowing who made your clothes. We produce our swimwear in a small London factory which prides itself on premium craftsmanship in a safe working environment.
We use fabrics which are twice as resistant to chlorine, sun cream and oil than standard Lycra® in order to ensure our swimsuits are high quality items made to last.
We work with OEKO-TEX® certified suppliers, manufacturers and partners who are environmentally and socially responsible – meaning that they pay fairly, use chemicals safely and minimise waste where possible.
We have sourced 100% reusable and recyclable packaging materials and have worked to remove unnecessary plastic from every stage of our processes, in order to minimise our environmental impact.
When we talk about ethical fashion, a lot of it revolves around sustainability and fair production, but representation amongst models is often neglected. What are your thoughts on championing model diversity in mainstream fashion?
That's a great point and it's something close to our heart too. We believe that fashion brands have a social responsibility to showcase healthy models, to not alter body shape through airbrushing and to help ease the social pressure on women to look a particular way. However, I also believe there is huge advantage to showcasing your product on a range of different body shapes and individuals as it helps your customers to see how it might look on them. Since we launched we have used a range of models with different body shapes, sizes and skin colours and our brand is all the richer for it.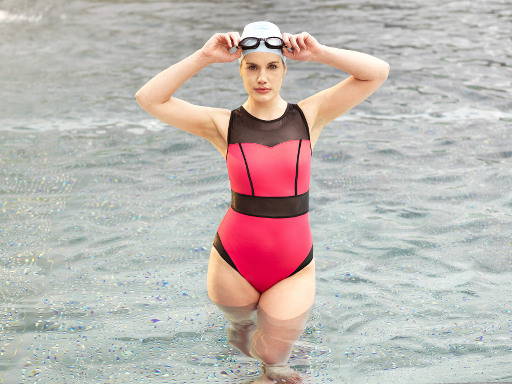 Before buying something new, what are the main things that you consider?
When I was younger I bought fashion pieces in a more disposable way, happy to pick up pieces cheaply that only lasted a season. However, as I have gotten older I have enjoyed having a smaller, capsule wardrobe of staple, timeless investment pieces that work season after season. As a result when I shop I look for quality, how well something is made and for designs that will last. However, the most important thing for me – how a piece of clothing makes me feel.
What is your proudest moment since launching Deakin and Blue?
We've had a brilliant year since launching with our swimwear being worn on magazine covers, by celebrities, and positively reviewed by hard hitting journalists. However, the stand out moments for me are all to do with feedback from customers. I met a young girl recently at a pop up event who confided that she had felt embarrassed by her body shape since she was a teenager. Seeing her expression as she tried on our bikini and smiled at herself in the mirror was something I will never forget. I also love reading the emails we receive each week from customers who tell us they how good they feel in our swimwear. I remember a particular email from an amateur triathlete who told me "I have been looking for swimwear like yours for ten years. Thank you." - those are my proudest moments.

As a female entrepreneur, what advice do you have for other young ambitious women who want to set up their own business?
I would recommend testing an idea as much as possible first – with friends, family, strangers, in focus groups and more to try and get as much honest feedback on a concept as possible. Once you are confident you have a great idea, I'd encourage you to take the leap but make sure you have a strong network of people in a similar position around you – being a solo entrepreneur can be lonely and scary and it's great to have a support network of individuals to share your successes and struggles with.
How do you hope to see Deakin and Blue grow in the future?
We have aspirations to become the market leader for beautiful swimwear that supports and flatters your body. We plan to continue to bring out new collections with different design styles and inspiration and to continue to offer women a range of swimwear to suit their style. We are currently developing a Gym to Swim collection that contains medium and high impact sports bras that can be worn for running, sport and swimming – enabling women to mix up different activities without needing to change their clothes. There's lots of exciting things ahead!