As part of our founder interview series we interview Paola Masperi to learn more about her 'Fashion Lab' in Malawi and how businesses can be used as an alternative to aid.
You first launched Mayamiko in 2008 as a charitable project with the intention of becoming a social business. What inspired you to use fashion as a tool for social development?
At the time I started Mayamiko, I had already been working in Malawi since 2005. And I could see so much potential to be unlocked. Tailoring and sewing has always been a pretty widespread skill in the country - but often at a very basic level. Providing education and skills creates a way out of poverty that is sustainable and not dependent on aid. Many studies have shown that women's education has a ripple effect not only on the women themselves and their families but also on the communities they live in. Couple that with an interest in fashion, the availability of wonderful fabrics and the many artisanal techniques that seemed to be slowly getting lost - that's how the idea came about!
Mayamiko garments are produced in the 'Fashion Lab', based on the outskirts of Lilongwe in Malawi. What first brought you to Malawi and what do you love most about the country?
Having travelled extensively in Africa and with an interest in sustainable development as well as human rights, prior to Mayamiko – as mentioned - I had spent several years working in Malawi. The country is pretty close to my heart for many reasons including its incredible beauty, warmth and people. Also, of all the countries I had been to, Malawi seemed to need the holistic approach more than most. This is why it felt like such a natural starting point when it came to Mayamiko.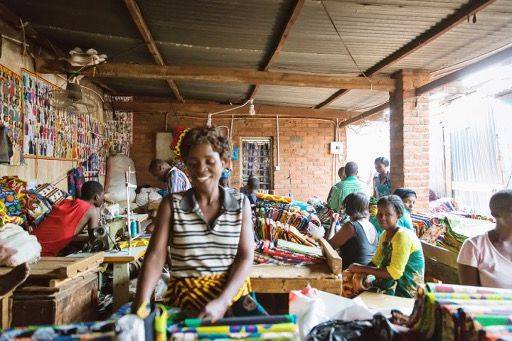 The Fashion Lab allows women to bring their children to work. Why did you decide to embrace this open-door policy?
I wanted to give people more choice and the freedom to make a life for themselves; often the lack of childcare provision can hold people back from recognising what they can achieve. We speak often with women who are barely teenagers and have been pulled out of school to support their family and feel like they have no choice. Their families feel like they have no choice, and society feels like there is no choice. With the money they earn through our work, these women often use their wages to fund education for their children; in addition, seeing their careers at Mayamiko can also have a positive effect on the children when it comes to motivation and inspiration to learn.
The Fashion Lab is also home to a doggie, a few chickens and a vegetable patch! How has Mayamiko impacted the community surrounding the Fashion Lab?
The most important thing it has done is to create opportunities for sustainable development. Beyond the Fashion Lab, we run a charitable training centre, where we provide tailoring and sewing training, as well as embroidery and other artisanal skills to disadvantaged women from the local community. We also provide financial education and entrepreneurship training, so our 'graduates' are equipped with the right tools to succeed. But not all of our graduates come to work at Mayamiko. It's a personal choice and some use the grant at the end of training to buy a sewing machine and pursue their own entrepreneurial activities.
Prior to the project, many of the people that work at the Fashion Lab did not have a reliable source of income; now they have skills, a higher salary, paid sick leave, paid holidays and contributions to a government pension scheme. Many of the carers that work for us, also have an income they can rely on to feed their dependents as well as fund education, so there is a clear knock-on effect in the community.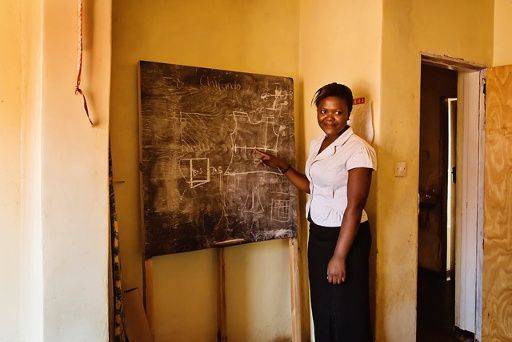 For every garment sold, you donate £1 to the Mayamiko Trust. What initiatives does the Mayamiko Trust support? [Note - £1 is a minimum advertised for a specific range of t-shirts, in general all profits are reinvested into the community]
The Mayamiko Trust helps to fund the activities of the training centre which provides skills beyond the Fashion Lab. Working throughout Africa and increasingly beyond, we support local communities' creative talents by sponsoring their training, teaching them to sew, knit, and tailor; with the additional micro-finance projects and teaching of basic business planning skills. We run other vocational programmes such as bee keeping, solar power training and solar lights business grants and more.
It is clear that Mayamiko has an incredible social impact. How do you try and manage your environmental impact as well?
Environmental sustainability is also a massive concern for me. If we want to work towards a more sustainable existence, we have to look at the clothing industry as one of the key levers for change. By reducing the complexity of our supply chain, we are helping to manage our impact; this includes a commitment to sourcing all of the components for the workshop within a 20km radius. We also operate on a Zero Waste commitment. We bring out 'zero waste' pieces, which make use of any cutting room waste in a clever and creative way such as our Namaste sets, hair accessories and some clutches. And with the even smaller pieces we train community members to make small items of everyday necessity - such as mops, re-usable sanitary pads, doormats, and even dolls - which we donate.
As a workshop, we run on solar power to further reduce our impact and we recycle anything. From offcuts to rainwater to the packaging material.
Also, every couple of years, or when the opportunity arises, I launch an upcycled collection that makes use of end-of-roll, end-of-life textiles from factories, which would otherwise be destined to the landfill. This is how our Rebirth collection came about and - in exciting news – the new capsule collection I just finished developing using end-of-life Italian silks.
In general, despite being a brand with a purpose to reach customers, we encourage our followers to buy less, but buy better. It's also an education piece and a styling thing: you can wear cotton all year round, if you layer it nicely!
Plus, and this is really exciting for us; we are currently in the process of setting up our eco-dye studio in Malawi. Using an organic cotton base, this aims to reduce current impacts with entirely non-toxic practices.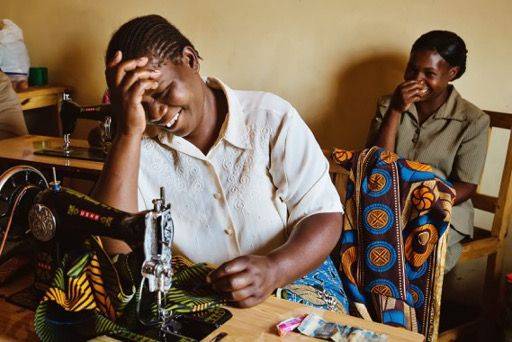 Where does the inspiration behind the style and design of Mayamiko come from?
We start from the amazing prints sourced in Malawi and then I fuse traditional skills with contemporary design. But we need to create something that is desirable for our global Mayamiko family and the age group we cater to. We are open to collaborations with UK designers. And we are also constantly taking inspiration from our Mayamikans at the Fashion Lab who often come up with many of the ingenious ideas for our zero waste pieces.
What aspect of Mayamiko are you most proud of?
To say that I am proud of everyone that passes through our training scheme and succeeds is a complete understatement. This is my reason to get out of bed every day!
I am equally proud to have been able to come up with a model that works. Our success is due to the fact that customers love our designs and want to wear them. This is what helps to grow Mayamiko and allows us to train and employ more people in Malawi and hopefully beyond. By creating Mayamiko we have also created something that we can replicate in other parts of world, using more amazing techniques and skills.

Do you have any plans to expand to other countries? If so, where?
Yes, the more we can help sustainable development the better! As well as the Italian upcycled silks collection handcrafted by a social project in Milan where migrants and asylum seekers work, we have just launched our Kayan scarf collection made in Myanmar by Kayan Lahwi women artisans and will soon be bringing you something new from Sri Lanka, where we are working with mothers of differently-abled kids.
Lastly, what is the significance of the name Mayamiko?
Mayamiko is the Chewa word for Praise. Accordingly, we believe that the most effective way forward for communities facing economic and social hardship is not to compensate for what they lack through aid. But to encourage and nurture what they already have; a wealth of creative talents and a willingness to grow in their own strength. All they need is the opportunity to develop, which is what Mayamiko is here for.