As part of our founder interview series we speak with Eilis Kemp Arizmendi and Maya Byskov Gadegaard from KEMP GADEGÅRD about the importance of quality garments, and creating fashion that's meant to last.
What inspired you to launch KEMP GADEGÅRD? What were you doing before this?
We have been friends for a very long time and had always spoken about working together and doing something creative that we were proud of.
Coming from different educational backgrounds, at some point we realised that our experiences and qualifications could be complementary. Maya studied development studies and economics, and worked for a variety of organisations, both in international development as well as the arts industry. Eilis studied Textile design and worked for a number of international fashion houses, in London and in New Zealand.
Our mixed backgrounds in fashion, design, international relations and contemporary art came together to what KG is today. A vibrant mix of references and aesthetics.
For both of us, the ultimate goal was to create a business where we were empowering women working in the textile tradition, while also providing an alternative to the fast fashion system with built in obsolescence and lack of quality, which is currently so pervasive.

How would you describe the style of KEMP GADEGÅRD? Who do you envision wearing your clothing?
The style of KEMP GADEGÅRD is minimal and timeless yet with a touch of aesthetic poetry. These qualities are important to us as the style and its continuity in time, is what makes an item of clothing long lasting and sustainable, apart of course from the material and production process.
We try to keep the collections as ageless as possible so all women can wear them, from teenagers to our grandmothers, now and in 5 years time.
We still own some of our mothers silk garments from the 70s, as well as knitted jumpers, and this, ultimately, is what sustainability is about. Not having to keep buying more stuff all the time, but valuing and taking care of the garments that you already own.
Ethical fashion can be very subjective. How do you interpret 'ethical fashion'?
Ethical fashion, for us personally and for KEMP GADEGÅRD, is in the quality of the fibres (durability), the transparent and traceable supply chain and keeping everything as close to our studio as possible. Working with a small production atelier in Spain and being able to oversee all aspects of the production process is very important to us. The relatively short distance between Spain and Berlin, means that large CO2 emissions are avoided (which would be the case if we produced in Bangladesh or Asia in general) and had to ship in big container ships.
In terms of the fibres, working with GOTS certified suppliers of organic cotton means we are sure they comply with strict quality controls in terms of waste disposal and crop production. For our other fibers, we trace the provenance of the fabric and make sure that it is not grown on monoculture plantations (bamboo) and woven in Europe.
Every season, our fabrics, and therefore suppliers, change, but we make sure they comply with our metrics before working with them.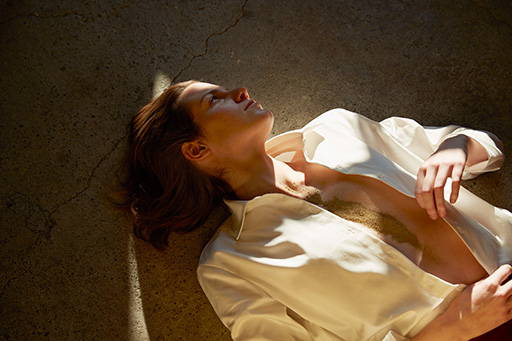 How do you think KEMP GADEGÅRD embodies your understanding of ethical fashion?
All garments for KEMP GADEGÅRD are produced in Spain in a production studio run by our good friend Carmen. We make small quantities, in the same place, so we are completely in control of our supply chain. The materials we use are made out of natural fibres only and these are organic and GOTS certified where possible.
There is also an element of female empowerment, seeing as the studio is run by two women, (Eilis and Maya) and our production facility is run by another.
How do you think designing with sustainability in mind influences the actual design process?
One of the challenges when designing sustainably is the limited choice of fabrics. Because of this we always source our fabrics first, and work from there. Thankfully the variety and availability is slowly changing for the better and there are more and more options and suppliers that are offering sustainable solutions.
Our prints have become very important for the label, and also for us in terms of creativity and expression. We have thought a lot of the printing process and decided to work with digital printing, as this method uses considerably less water and is less contaminating than other methods, and is very durable over time.
Do you think it is the responsibility of fashion brands, or fashion consumers, to create a more sustainable relationship with clothing?
We think that outsourcing personal responsibility to companies is perhaps not the way forward, but it is important for companies to offer alternatives to the mainstream system. We once read a quote that says that every time you purchase something, you are casting a vote for the kind of system (political, economic) you want to live in, and we think this is completely right. Governments have a big say, but we, the people, have a lot of influence on changing and disrupting the status quo. If everyone on the planet stopped buying plastic it would have a huge impact on a global scale.
Through founding KG we have realised that a lot of people have little information about the social and environmental repercussions of the fashion industry. Increased transparency in supply chains and production methods are helping to educate us all about the provenance of the products we use on a daily basis. The consumer has an important role to play in changing the fashion industry, and every purchase counts.
In conclusion, it is a combination of companies offering alternatives and customers making conscious decisions about their purchases.
Some natural fibres that you work with like bamboo and silk can be somewhat controversial. Do you think the benefits outweigh the costs with these fabrics?
The sustainable fashion ecosystem is full of controversy (and hypocrisy), also. We have selected a number of benchmarks that are important for us, longevity, work conditions and using organic and natural fibres, being the core. We use no plastic derivatives, as the environmental damage caused by these (microplastics, etc) is something we do not agree with.
We use bamboo, as it is an extremely soft and durable fibre from a plant that grows easily and quickly. However, being aware of the chemically intense production process, we are currently trying to find alternatives.
Silk, although not a vegan product, is a very luxurious fibre that breathes super well and again, last for years and years. We tried using peace silk once, but after performing several wear tests we were very disappointed with the results, it started to deteriorate too quickly.
In conclusion, everyday, we try to find more environmental and better fabrics for our collections, valuing durability very highly.

How do you think the current fashion industry perpetuates global inequality?
If you sell a t-shirt for 5 €, it's easy to see that someone, in that production chain, is either underpaid or not getting paid at all.
Historically, certain countries have created clusters of garment production facilities, where large multinational companies typically produce their garments. This is not a problem in itself, if only these workers were allowed to join unions, ask for pay rises, maternity leave, paid holiday, health insurance, etc. It is a known fact that many of the production clusters in Bangladesh, Vietnam and China do not offer their employees proper conditions, practically making it impossible for the workers (typically women, in the case of garment production) to get a better quality of life.
There is a frightening "race to the bottom" from big international companies moving production facilities to the cheapest countries, with little understanding for the consequences that this has on local economies.
We actively produce small scale in Spain, which allows us to pay proper wages and make sure that the people sewing KEMP GADEGÅRDs collections have very good conditions.
If you were not working in fashion, what would you do?
Maya would be working in a social enterprise of some sort, and Eilis in the music or art world!
How would you like to see KEMP GADEGÅRD grow in the future?
We would love for our label to grow in terms of geographical outreach in Europe, while still staying small enough to be able to keep the production in house in Spain.
We would also love to expand into other areas of design and perhaps, develop collaborations with artisans.