As part of our founder interview series we interview Martin Kluck from Kipepeo to hear the wonderful story of how the ethical fashion brand Kipepeo got its wings.
Tell us the story behind the name 'Kipepeo'.
Kipepeo-Clothing is a social-business that is supporting primary schools and education in Tanzania. We manufacture organic T-Shirts, children's and baby clothing that are 100% sourced and made in Tanzania. The unique aspect of Kipepeo are the designs. All designs are created during the regular school lessons at primary schools in Tanzania. So if the topic of the science class is "the animals of the Serengeti" the children then draw tiny designs of elephants, giraffes or monkeys in their exercise book that find their way on Kipepeo- shirts. With each Shirt sold, Kipepeo supports the schools where the designs were created by paying school fees, stationery, medical supply or even by building new school building.
Back in 2008 I was working as a volunteer teacher in Tanzania when 7-year old Abigail gave me a little letter with a design she had drawn for me. A little manikin with a potato head and the words "love you". When I came back to Germany I printed that design on a shirt to have a constant reminder of my time in Tanzania. When I found out that Abigail's parents couldn't afford her school fees anymore, I started to print more shirts and sold them to my family and friends to be able to pay her school fees.
This little design was basically the foundation stone of Kipepeo. Over the next years more designs followed and we started sourcing and manufacturing all our products in Tanzania. "Kipepeo" means butterfly in Kiswahli, that's the reason why the butterfly on our logo is located where you find Tanzania on the African continent. It was the first word one of the pupils wrote in my diary in 2008, so it should become the name of a unique project.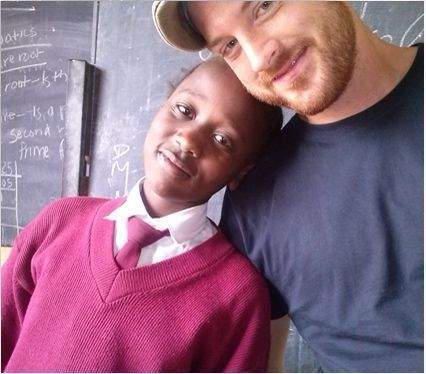 Kipepeo is a stellar example of a circular social enterprise. What is the 'Kipepeo-Cycle' and how does it help children in Tanzania?
We were looking for a way to make all processes involved in manufacturing T-shirts and supporting primary schools in Tanzania as transparent as possible. The Kipepeo-cycle is a holistic cycle that promotes fairness, sustainability and health to everyone involved. That means fair prices for organic cotton farmers that cover not only the cost for the cotton but for a healthy environment as well. All our products are made in one factory that has a totally, vertical supply chain. That means every single step of manufacturing like spinning, knitting, weaving and sewing takes place in one place. No chemicals, safe jobs and fair living wages for everyone involved. When the products are sold, a part of the turn-over goes back to the school where the design was created.
Are the children who draw the designs on Kipepeo T-shirts aware that people around the world are wearing them? How do they feel about that?
In the first years we took the designs the children were drawing in my diary when I was working as a volunteer teacher in Tanzania. I knew all the kids and their families personally so we were talking about the idea and they liked it.
Since a few years, we only use designs that are created during the school lessons; this means we don't have an influence on the designs. We're also looking for projects that we can implement where not single children but the whole school profits from. So we started building a proper kitchen building and a computer classroom with internet access at one of the schools for example. There's not such like "a project" at a school in Tanzania where someone "has to do" something. If you would tell a child to draw a specific design that you can sell more T-shirts, even if it´s for the good cause, it would be some kind of child labour too- wouldn't it?
Till today we´re close with the community, the families and the children at the two schools we´re supporting as we´re in Tanzania at least twice a year.
You have supported numerous different projects in Tanzania. How do you design these projects? Do you work with any other organizations based there?
Basically we're not designing projects. There are two schools we're supporting since 2008 now. The people who know best what the schools need are the principals and the teachers working there; they decide what is needed, tell us the costs and we make a roadmap based on our sales to calculate when we will be able to finish the project. When we were building the kitchen building in 2011 for example, there was just a small wooden cabin used as a kitchen. Mangos and other fruits were stored there and during rain season, when the fruits got a bit wet and started to get rotten but got eaten anyways some of the children got sick. So the principals told us that a new kitchen building would solve many problems in terms of health and hygiene. So we calculated and started building a kitchen.

How do you ensure ethical production throughout the product lifecycle?
We're working close with our partners and manufacturers and we visit the factory in Tanzania regularly. From the cotton to the finished garment; the whole supply chain is checked once a year and certified by an independent certification body.
It is clear you have incredible social impact. But what steps do you take to limit the negative environmental impact of production?
We try to manufacture every single product ethically and environmental friendly as possible. Not only our textiles. We also manufacture our paper bags made of recycled paper at a tiny factory in Tanzania as well.
After visiting Tanzania multiple times, what do you love most about the country?
Visiting our school projects and meeting old friends.

What is your proudest moment since launching Kipepeo?
There have been a lot but there are two that put a smile upon my face every time I think about them. The first one is the fact that one of my all time favourite bands played at the Kipepeo Winterfest 2016. We met the lovely girls from the "Las Kellies" (ar) 8 years ago in 2009 when we were travelling across Europe. We gave them a lift to their next gig from Germany to the Netherlands and told them about Kipepeo and gave them T-shirts. They told us, whenever we're going to make some public event for Kipepeo, they come around and play. Last Year we organised the very first Kipepeo Winterfest for 150 invited supporters from all over the world. The girls showed up and played an awesome gig. That was such a great gesture and definitely one of the greatest moments in the last years.
The second moment I´m thinking of is meeting one of my childhood heroes Dr. Jane Goodall last year when we won the "Making a difference" Award by the Jane Goodall Institute Germany. She´s such an inspiration and has a major impact on wildlife and conservation in Tanzania. It was a great honour to meet and talk to her!
If you weren't running Kipepeo, what would you be doing?
I'm afraid it would be something pretty boring.
Do you have any plans to expand into other countries? If so, where?
We´re starting our first production in Kenya his year. It will be an organic collection of all-over printed baby bodies. You will find more information soon on our website.