As part of our founder interview series, we speak with Kresse Wesling MBE about the merits of social business, the Elvis & Kresse apprenticeship program, and promoting a more circular economy.
Before Elvis & Kresse, you had no experience in fashion or retail. What were you doing before, and how did a chance encounter with a fire hose change your path?
My first job was in venture capital. I did that until my early 20s when I set-up my first business, this made biodegradable and green alternatives to traditional packaging. Then in 2005, after visiting a host of UK landfills and discovering the size of the waste issue here, we started Elvis & Kresse. Following a chance meeting with the London fire brigade in 2005, Elvis & Kresse discovered fire-hose. After a distinguished career of 25 years, fighting fires and saving lives, the damaged hose, that was deemed no longer able to fulfil its role, was simply sent to landfill. Elvis & Kresse fell in love with those brave old hoses and mounted a rescue. The hose was too beautiful; it had too much left to give. Like so many things in this world it had been given one life, one purpose - this is contrary to the ethos of Elvis & Kresse. Honoring the hose means designing beyond a single season, ensuring lasting, classic design and a functional, wearable aesthetic that stands the test of time. We work with highly skilled craftspeople that build as much value as they can into every single piece they create. Elvis & Kresse donate 50% of the profits from the fire-hose range to the Fire Fighters Charity.
The design process for Elvis & Kresse is somewhat backwards, working from material to design instead of the other way around. What is your design process like, and how do you pick the materials that you work with?
Our process is entirely backward. A traditional designer starts with a concept, a sketch. They then go out and acquire the materials to best achieve that design. We start with a problem; a material that would otherwise have no hope of a second life. We research that material and the nature and scale of the problem before developing a product that we feel offers the best future potential for that material.

Do you have a certain design aesthetic that you have in mind while creating new products?
Absolutely, we design practical, utilitarian classics. We don't do trendy or seasonal pieces as we are always concerned with longevity, in terms of both quality and aesthetic.
The first time we saw your business card we were completely blown away.  Can you tell us about them, and how these came to be?
We love these too! We discovered that air traffic controllers still use a stiff paper flight strip to mark down details and instructions to the planes they are guiding. Every time a plane lands in the UK seven of these strips of paper are generated. They are very high in quality and only printed on one side. We laser etch our details on the other side, retaining the history of the strip.
It seems that you have a passion for repurposing waste. How can we promote a more mainstream transition to a circular economy?
We need more consumers to support circular producers, we need designers to create exciting circular goods, we need more of the most talented sales and marketing professionals to seek out companies who make this way and take their talents to businesses where circular successes can be scaled and we need to governments to raise landfill taxes or create other incentives to drive circularity. Like solving climate change, it is going to take everyone...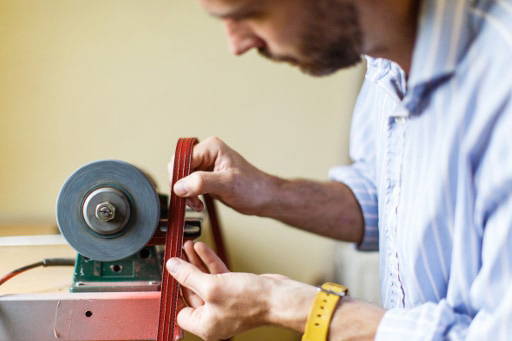 Elvis & Kresse runs an apprenticeship scheme. What does the program entail and what inspired you to start this?
Our workshop is in North Kent and there is significant youth unemployment here; this is a problem that we can help to solve, even if it is in a small way. We are also addressing a wider issue in the UK, lots of highly skilled craft labour is now in East Asia due to the offshoring that has been happening for the last several decades. We are keen to be a part of the onshoring trend that hopes to deliver a new generation of skilled craftspeople to the UK, ensuring a future which includes localised 'making'. Our program is 14 months of training, while working at our Kent workshop.
You set the goal to eradicate firehose waste in the UK, and successfully completed this mission. What's the next challenge?
Each year, 800,000 tonnes of beautiful leather ends up on the cutting room floor. Our leather partners, the best of British luxury, cherish their hides and the waste they produce is in small seemingly unusable pieces. In order to rescue these fragments we developed a modular approach. We created three shapes that interlock to create whole new hides. Each shape is individually cut before we lovingly hand weave them together, piece by piece, creating a strong, beautiful and tactile new material.
We find 'Ethical Fashion' to be a bit of an ambiguous buzzword. What does 'ethical fashion' mean to you, and what qualities do you look for in other brands you support?
We look for quality, simplicity, and ease of care. If it requires Dry-Cleaning that means a lot of embedded future environmental issues. We look for transparency. How open is this company? How have they been featured in the press? Have they been covered in detail by journalists who are aware of the major pitfalls that exist in this industry? We look for a clear statement of intent on sustainability and ethics and any third party certifications that confirm or support these intentions. We aren't looking for perfection. We are looking for companies who are honest about where they are on their journey. We do a lot of research and generally become very loyal to brands that can live up to these standards.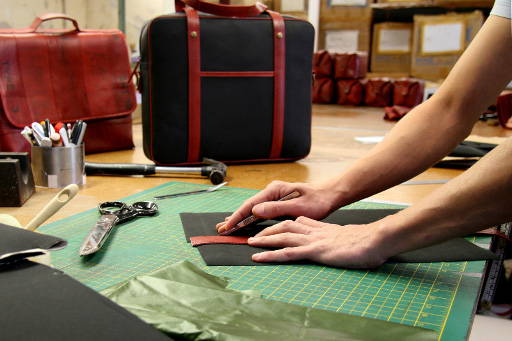 If you were to teach at a fashion college, what would your course be called and why?  
Delivering a circular economy without sacrificing quality, engagement or design.
This is a call to action for all our innovators: Is there a particular source of waste that you would LOVE to find a use for, but just can't seem to find a solution to?
There are so many… millions of tonnes of material are going to landfill every year. Mattresses are particularly annoying though as they are incredibly bulky and contain all kinds of potentially valuable components.