As part of our founder interview series, we speak with Katja Iljana from KIKS about upcycling, Scandinavian style, and life's inspirations.
KIKS products are made from upcycled and leftover materials. But how did you decide to create a collection using upcycled materials, and where do you source them?
With KIKS it all started with upcycled materials. Back in 2003, there were not so many brands utilizing upcycled (back then we used the term 'recycled') materials. So I felt there was definitely a demand for fashion that doesn't waste resources. At first, KIKS was about upcycled, unique pieces made of post-consumer waste. But after I came across a leftover stock of end-of-rolls of technical fabrics I realized there was a huge potential lying on the factory floors.
I source our materials from Finnish companies that either produce fabrics in Finland or produce overseas but have their stock in Finland. In an ideal world this kind of waste wouldn't happen but as long as it does, it is good that we use it! I also source old deadstock fabrics such as the weatherproof Finnish army leftover wool. I am also interested in recycled fibers and have used them in our previous collections.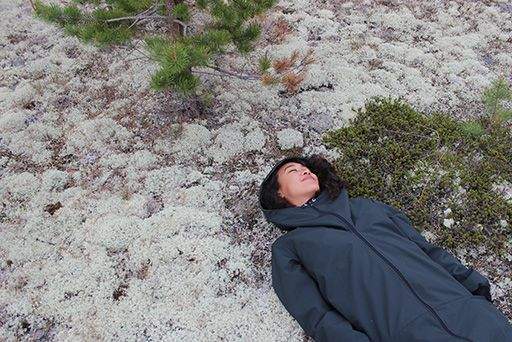 How does using upcycled materials influence your design process?
The available materials from the collection so the design process is kind of turned upside down. My design process is very crafts-oriented; I am used to designing with actual fabrics rather than on pen and paper or computer. Sometimes I have to do materials tests if I don't have proper information on the upcycled fabric I am planning on using.
What were you doing before launching KIKS and how did this influence the creation of KIKS?
I was studying art education at university and designed and made upcycled clothes and accessories on my free time. I first started selling my designs for friends and family and pretty fast I was asked to design for others, too. Without a solid plan or a budget or a proper designer or business education the early KIKS was definitely more of an art project than a business venture, and over a decade later, after years of practical learning but also educating myself more I still want to hold on to that enthusiasm and open-endness.
How would you describe the style of KIKS? And where do you find your design inspiration?
Someone just recently said my designs look like they could be worn on the streets of a future city from a science fiction game. I took this as a great compliment. I draw inspiration from the visual arts. Underground club music, big cities, superhero cartoons and my friends but also love nature; going to the forest picking berries and mushrooms, long-distance biking on my own. I try to mold these two worlds in a simplistic, uncomplicated, timeless everyday style that has a hint of a futuristic oddity.
Nowadays the everyday life with its everyday challenges is also a big motivator for me: to design clothes that make you feel a bit better about yourself – even on that rainy, windy day!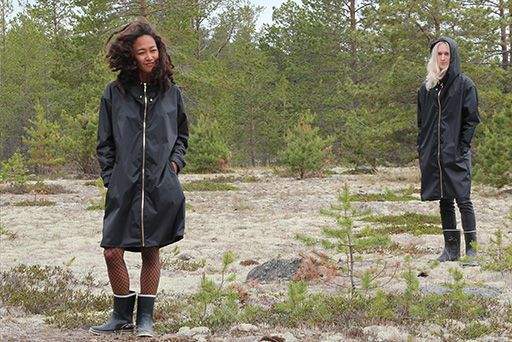 All KIKS products are made by hand in Finland. Why did you choose to produce small-batch collections?
Our production ways are also value-based; this way we can avoid stocks and save resources. I also want to do my part to keep the dress-making knowledge in Finland; where this industry has almost died after the fast-fashion boom some decades ago.
Many Scandinavian brands are rising in popularity based upon their minimalist style and commitment to sustainability. As a brand from Finland, what are your thoughts on this trend, and how does your home culture influence KIKS?
Until now my main market has been in Finland and the Finnish down-to-earth culture and the demand for the practical, simplistic design and darker tones have had a big influence on KIKS, which through the years has evolved from colourful far-out unique pieces to simplistic, timeless and gender-free designs. The sustainability trend is obviously a great thing; I am very proud be one of the first brands in Finland using solely upcycled materials in their collections.
'Ethical Fashion' is hard to define. How do you understand the term, and how does KIKS embody this philosophy?
"Respecting the human, nature and good kiks" has been our motto since day one. For me, it's all that ethical fashion is about; to consider and constantly reconsider the ecological and social impacts of your products' lifespan and try to eliminate anything that's harmful. Not only using upcycled materials but also making the products last both style and quality wise. And paying righteous wages and minimizing the logistics footprint of the product.

So what message do you hope to spread through KIKS?
I have always thought that sustainability in business should be considered self- evident, not a specialty and in our case it means we don't have to look green to actually be green. I also want to emphasize that besides trying to produce as ecological as possible"ethical" for us includes being overall feminist, gender-free and non-discriminating. A truly creative lifestyle. And I am also an active DJ; I do occasional events promotion and production and costume design for theatre projects and such. I also make electronic music as a hobby. My brand KIKS is one (big) part of my creative lifestyle where I value happiness and inspiration and being true to your values way over economic success or external status.
And how would you like to see KIKS grow over the next five years?
I want to reach new friends across the globe. The kind of crowd that doesn't necessarily have a common language; home country and were not born in the same decade but share the same aesthetics and values. I want to be a bit bigger and better. But always stay true and close to our customers and constantly improve our products. I want to make more future classics!