As part of our founder interview series, we speak with Kath Austin from BeeBee Wraps to learn more about the story behind BeeBee Wraps, and the quest for a plastic-free kitchen.
What inspired you to launch BeeBee Wraps? What were you doing before?
I had no idea this would turn into the next direction for my life, my partner's life and be what it is today. For the last 15 years I had worked as a fundraiser in charities, a job I loved! Deciding to move on was a very hard decision.
BeeBee Wraps started life as a project in my kitchen. I wanted to find a way to reduce plastic when I started baking sourdough around the time my first daughter was born. (I'm not sure why I did start baking with a newborn around, I think I needed something to do which wasn't directly related to motherhood. Although I did it so when she was weaning she would have really good bread to eat). There was no easy way to keep it fresh without using plastic and even then plastic made the bread go soggy and mouldy so fast. A bit of Googling around old methods of food storage and I found that around the world people were making beeswax wraps, a traditional way to store food used for centuries.
I started experimenting with torn up bed sheets and beeswax from a local beekeeper. The kitchen quickly descended into a big beeswax gooey mess. However, my friends and family loved them and encouraged me to sell the wraps. I spent some more time perfecting the formula of beeswax, tree resin and jojoba oil and finally got to a point where I felt happy. The first BeeBee Wrap was sold on 23 April 2017 and we were in business.
At first it was just me working alone in my kitchen, burning the midnight oil and working my way through back catalogues of music to keep going. (I remember John Mayer featured quite heavily!!). Then Bebe came on board, yeah you read that right, her name is Bebe, then Luana, and the team grew from there so quickly. Now David, my partner, also works with us. Having a family business makes caring for the kids so much easier but it also means it tricky zoning out!
Why was it important for you to work with organic cotton, despite how much more expensive it is?
Deciding to solely work with organic cotton was an easy decision. The chemicals, pesticides, man-made fertilizers and prevalence of GMO used in conventional cotton growing was enough to persuade us that using organic cotton was the only way forward. The GOTS certification ensures the farmers are treated fairly and have a safe environment within which to work. We are passionate about avoiding the situation where we solve a problem on one hand and create a problem on the other. Using organic cotton helps us to tread more lightly on the earth.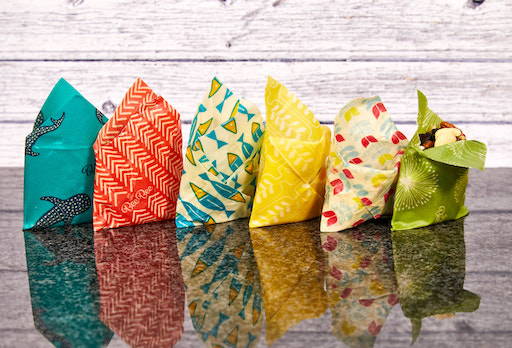 While BeeBee Wraps provides a sustainable alternative to cling film, what other steps do you take to make sure BeeBee Wraps are as ethical as possible?
BeeBee Wrap Pouches are a great eco-friendly alternative to cling film.
The obvious swap BeeBee Wraps provide is plastic reduction but they're also great at reducing food waste. For example, cut herbs in plastic wilt and turn rancid very quickly. In a BeeBee Wrap they stay fresh for over a week. We work really hard to ensure that our whole supply chain is as ethical as we can make it. We're not perfect, we are constantly trying to improve where we can. Our beekeepers are part of the British Bee Keeping Association or the Bee Farmers Association and adhere to the Welfare code for bees. So far, we only use British beeswax as the standards for pesticide use is so strict. If we venture overseas we will seek out organic certification or another well respected accreditation to ensure the fair and healthy treatment of honey bees.
What is the most common food we will find tucked away in your personal BeeBee Wraps?
I am a fan of the pouch. You can create a secure pouch from your BeeBee Wraps and it will house all sorts of produce (check out our tutorials!). I love to put my fruit and nut mix in or perhaps some cheeky chocolate drops!
With the rise of zero waste stores in the UK you can also use BeeBee Wraps to bring home anything from sugar to beans using the pouches. Then they unfurl back to flats, totally versatile. I also love wrapping my sandwiches, as much as I want to eat less bread, I have to admit I am a bread addict!
If you could tackle another single use plastic, what would it be?
The ultimate plastic I would wish away immediately is in the distribution chain. All the wrappings around the shipments in to supermarkets, the massive crates of fruit wrapped in sturdy, robust plastic and the packaging which becomes obsolescent once it hits the stores. Supermarkets are working to reduce this but it is not an easy win. One way to avoid this is to shop locally from shops that grow food locally, even better from the farm itself. If that doesn't work for you then try shopping from supermarkets who have worked hard to reduce the chain.

What advice do you have for someone looking to reduce their waste in the kitchen?  
I love this question because it has a wealth of benefits in addition to plastic reduction. To reduce plastic, cook from scratch. No more plastic packaging, no more processed food. Purchase more fresh produce, use your own bags to transport home, even plant a veggie garden, just the herbs alone make a massive difference. The additional benefits being eating seasonally, eating less sugar and salt, eating healthy vitamin-rich food, learning more about your food, becoming better connected to the food, being involved from field to fork. The benefits are overwhelmingly persuasive. I know it's hard to think about what to cook in the evening after a long day so give yourself a break and go slow. Stick on some music, crack open some wine and enjoy the process of cooking. The way I conquer this issue is completely out of character for me. I plan. I am not a planner. Planning food has always been a big barrier for me. I started by planning meals with David, so he was involved and we pushed each other to do it. We made a list of all the meals we could think of and pinned it to fridge, then we chose what we wanted to eat for the week and bought exactly those items. This also reduced food waste. Other than that, I would get a green bin for scraps, recycle whatever you can minimising landfill waste. Think if you really need it before you buy, use a reusable bottle, carry a knife and fork (or a spork!), always have a reusable bag on your person, and of course a BeeBee Wrap!
Do you think that businesses have an important role to play with regards to shaping consumer behaviour?
Absolutely! The relationship between consumer and retailer is symbiotic. The consumer demands a certain product as much as the retailer markets one. It's chicken and egg. We respond to what our customers are asking for. When Blue Planet uncovered the plastic crisis consumer demands were for plastic alternatives and we responded with BeeBee Wraps, however we work hard to show our customers the myriad of ways you can use BeeBee Wraps to help them ensure they get the most out of them, maintain the habit change and ultimately reduce single-use plastic usage. As a business we take responsibility to encourage an easier shift towards more sustainable products, that's why we made BeeBee Wraps beautiful, no one will use a product for long if it doesn't make them happy and aesthetic helps that feeling.

What do you look for in other brands that you support?
Number one criteria is that we need to see that their product helps to reduce the impact on the environment. We love brands that celebrate nature, the best provenance and slow living. Modern life is so fast and adrenalised. Anyone advocating a slower, more relaxed approach is right up there in our good books.
What has been your proudest moment on the BeeBee Wrap journey so far?
You'd think it would when we got some national press coverage or when we had a massive shop stock us. And those remarkable milestones, I count us extremely lucky. However, on reflection it was the combination of two days; the day David and I stood in BBHQ looking at the shelves full of BeeBee Wraps and David said 'look what we've created!'. We don't often stop long enough to congratulate ourselves because it's been an amazingly fast ride right from day one. The second part is the day a customer told me that they had completely stopped buying clingfilm, the whole family had been converted. That day I did have a little lump in my throat. I get really emotional at seeing the damage we do to the planet, so knowing what we're doing actually works was so special.
How would you like to see BeeBee Wraps expand in the future?
I've got lots of ideas for new products and new directions to take BeeBee Wraps in. My team are the string to my kite and ground me, I would fly to the moon if I had the notion. Building BeeBee Wraps is our 2019 goal, spreading the word of an alternative and firmly establishing ourselves. (However, the dreaming continues!)