As part of our founder interview series, we speak with George Hodgson from Maison de Choup about using fashion to talk about mental health.
How did your own battle with mental health inspire Maison de Choup?
Maison de Choup was started in 2015 during the darkest period of my life, when I was incredibly mentally unwell with Anxiety & OCD, I couldn't attend college and I didn't have a job, so I use to write down and draw all my thoughts and feelings as a way of expressing myself, because at the time I didn't know how to talk about it, so I had loads of these little notebooks full of my drawings and musings. As I started to slowly get better, I began to play around with my designs on Photoshop, adding colour and manipulating them at my father's office. The next thought I had was actually putting my designs onto a medium and I landed on the idea of a T-shirt, thinking I could actually use a t-shirt to express to my friends and family what I was going through. Maison de Choup was born.
What message do you hope to send through Maison de Choup?
An inspiring positive one, one that encourages other sufferers that they can come through their darkest period. Our determination to change the way people talk about mental health motivates everything we do. It's a lionhearted approach.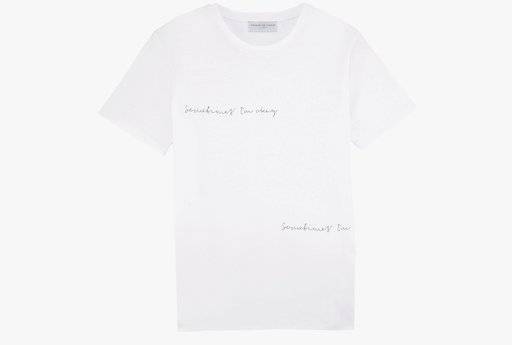 What mental health organisations do you partner with, and how do you support them?
Maison de Choup is officially only partnered with one charity, YoungMinds. The reason behind partnering with YM goes back to when I was suffering myself, I used YoungMinds website as a resource to understand more about my illness, and after being told I'd have to wait 40 weeks to receive help via the NHS, my parents sent me privately. When I launched the brand, I wanted to give back to a charity that helped young people who weren't in the same fortunate position I was in, that's why 25% of proceeds from certain collections go to them.
What is your favourite Maison De Choup design to wear?
Good question. It changes almost on a weekly basis, as we have just released 2 new designs, my current favourite is the 'Who Cares Wins Conquer from Within' Long sleeve tee, in white (and black). But if you were to ask me my all-time favourite design so far, it would have to be the 'Sometimes I'm okay Sometimes I'm not' hand embroidered design, it's incredibly delicate and very special, a sentence that resonates with me all the time, simple yet beautiful.
"Ethical fashion" is an extremely broad topic. What does 'ethical fashion' mean to you?
I believe ethical fashion is all about being conscious and aware, knowing where your products come from, that they are created and supplied with the workers in mind and understand the process behind how they are made and what goes into the product. Maison de Choup uses an ethical supplier, all our t-shirts are made from 100% organic sourced cotton which is also part of the fair wear foundation. As a brand based around mental health, it is incredibly important that everything from story to product is transparent and well made.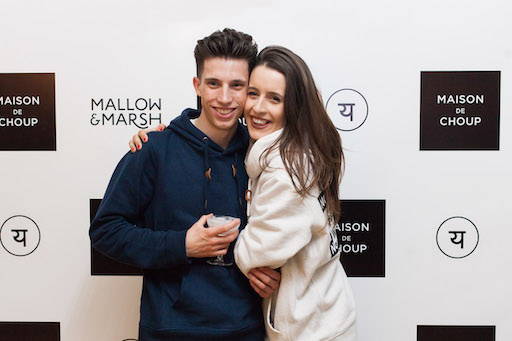 While it is clear you have a powerful social mission, what steps do you take to ensure fair and transparent production of your collection?
Throughout the Maison de Choup brand, transparency is incredibly important. As a sensitive brand, we are committed to making sure our products are of the highest quality, not only that, but are produced consciously. We know exactly where our products come from, what they are made from and the people who are working to make them. When I set out to launch the brand, it was vital that I found good quality products that were also good to the environment, and it is a mission that we are continuing to focus on always improving.
Do you think that the fashion industry should use its creative platform to create more positive change in the world?
Absolutely. Fashion is a hugely influential tool, it is everywhere, we all wear it, it is a form of expression. Using it as a platform for change is incredibly powerful, a lot of the early innovators in the world have a sense of interest in fashion, even if they are unaware of it. Maison de Choup is using fashion as a vehicle to raise awareness, and funds for mental health problems in a subtle, non-triggering way.

If you weren't working in fashion, what do you think you would be doing?
I know exactly what I'd be doing, Photography. When I attended college, I was on track to achieve highly in my photography course. It is my absolute passion and I still love it to this day. I use it when shooting new products as well. My grandfather was incredibly talented and I believe it comes from him. Both my parents are creatives (graphic designers), so it was inventible I was going to go into something creative. I found photography to be my partner, as the results are instant it suits me perfectly, with graphic design I get too impatient with the constant changing of design.
Where does the name Maison de Choup come from?
The name 'Choup' stems from a nickname I gave to my sister, Charlotte, when I was younger, she used to help me when I was really unwell and is always there for me, we are incredibly close. 'Maison de' means house of in French. House of Charlotte, it is a dedication to her.
How would you like to see Maison de Choup expand in the future?
Maison de Choup has many plans for the future, exciting ones. However, one of my main aims which we are currently working towards is opening pop-up shops around the country, which aren't just shops for the brand but also safe spaces for people suffering. Around that area I will then do speeches at local schools, colleges and universities about my story, encouraging more young people to open up, thus leading them to also visit the pop up.