As part of our founder interview series, we speak with Francesca Kippax from ANUKA about Fairmined Jewellery and the importance of transparency.
How long have you been designing Jewellery? Have you always had a love for jewellery?
From an early age I was obsessed with wearing my grandmothers jewellery, putting everything on at the same time - Probably not the look I'd go for now but then I loved it! I think that along with making friendship bracelets with my sister and my Mum's creative input as an artist was enough to ignite my lifelong love for jewellery.
On completing my degree in Jewellery & Silversmithing, I started designing pieces for galleries, exhibitions and bespoke commissions. It was in 2014 when I founded ANUKA that I started designing full collections; nothing gives you a better feeling than seeing your designs being worn and loved by somebody.
What is your design process like? Where do you find your inspiration?
The process usually starts as a quick scribble, getting down quick shapes and ideas before they leave my head. I really find the design process comes to life and progresses quickly when you start making, playing about with materials, forming shapes and textures to see what works and what doesn't.
Inspiration for me always comes through form, whether that is from natural sculptural landscapes or the urban environments we surround ourselves in.

We love the name ANUKA. Does it have any significance?
Thank you! Simply, it translates as 'Jewel'. I initially went by my name, it was whilst living in South Vietnam I realized my own name wasn't too easy to pronounce in a number of languages! After some research and help with friends I settled on ANUKA, loving how it is spoken.
ANUKA has an impressive transparent supply chain. Why is transparency so important in the jewellery industry?
Transparency is important in every industry, and having transparency allows customers to have a conscious choice. I myself want to know how my green tea was grown and manufactured in the same way I want to be aware of who made my t-shirt – the jewellery industry should be no different. Working with Provenance allows us to go that bit further by helping to verify the claims we make with the manufacturers and suppliers we use. I want you to know everything was hand crafted in the U.K, but its not enough just to state it - you need evidence.
What does it mean to be a Fairmined Certified Jewellery brand?
Incorporating Fairmined alongside recycled precious metals into our jewellery is hugely important. We are part of the process helping to support small scale artisanal mines, who's miners will benefit from a fair wage, safe working conditions and clean water supplies along with a low environmental impact. It is an audited process which means all precious metal is completely traceable back to its original source.
Ethical fashion is an extremely broad topic. What is your definition of 'ethical fashion'?
We define ethical fashion as being transparent and honest in the supply chain. This teamed with working towards lowering environmental impact and maximising our social impact through supporting small artisan miners and using British suppliers.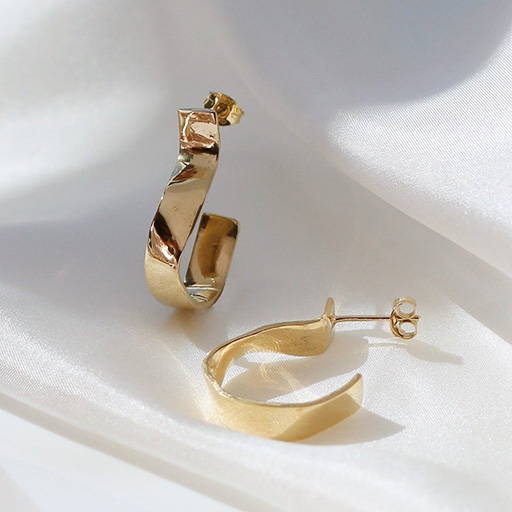 How would you describe your style? What do you look for in other brands that you support?
ANUKA centres its style around clean designs with a clean ethos. This means timeless quality designs with a contemporary edge. I want people to wear my designs 30 years down the line and for them to look as distinct then as they do now.
For me personally I am always drawn to brands that consider their use of materials and team that with quality craftsmanship at the forefront of their products. You can have a great design but if its not made well and there isn't a great story behind it I tend to lose interest quickly.
What is you most worn ANUKA piece?
This is a tough one! I would have to say my KOTI square ring stack, always a firm favourite; I wear these day to day and find they are great for every day, but also make just enough of a statement to be different. I'm also really loving wearing the LOKA curve hoops.
How do you think we can lead a transition to a more ethical jewellery industry?
I think it's about starting the conversation, awareness is key to making conscious choices. Whether you are a customer or working in the industry, it is awareness that will enable you to formulate opinions and lead to better decisions. If we don't talk about it, nothing will change.
What advice do you have for other independent jewellery designers that are just starting out?
Learn about your industry and your materials. Ask questions! Work out why you want to design and what values are really important to you, this will be the foundation of your business.