As part of our founder interview series, we speak with Leila and Clémence, founders of COTTESEA, on how their travel inspired the perfect beach towel.
How is COTTESEA inspired by a love of travel?
Travelling is the essence of our friendship. We had started exploring Europe together at the age of 18 . After our studies we went travelling to Australia, New Zealand, India, Indonesia, the Philippines and so many other countries. Our first collection is the inspiration and signature of all these beautiful trips.
Our brand name was also inspired by one of our trips. The COTTESEA designation was inspired by the city COTTESLOE; a seaside resort located in south-west Australia where we both had one of the best years of our lives.
By living abroad, we embrace new cultures and new landscapes. We like being out of our comfort zone and learning from the world!
What is it like to run a company with one of your best friends?
It is so precious! It is an amazing way to stay in touch and maintain our friendship regardless of the distance that separates us. It's been 5 years now that we are both living abroad and apart from each other. Clemence lives in the Seychelles and Leila in London. We don't spend a day without talking to each other.
We know each other very well as we have lived and traveled together. Setting up a business has not changed our friendship whatsoever! We know how to discuss and balance our different opinions for the best interest of our company.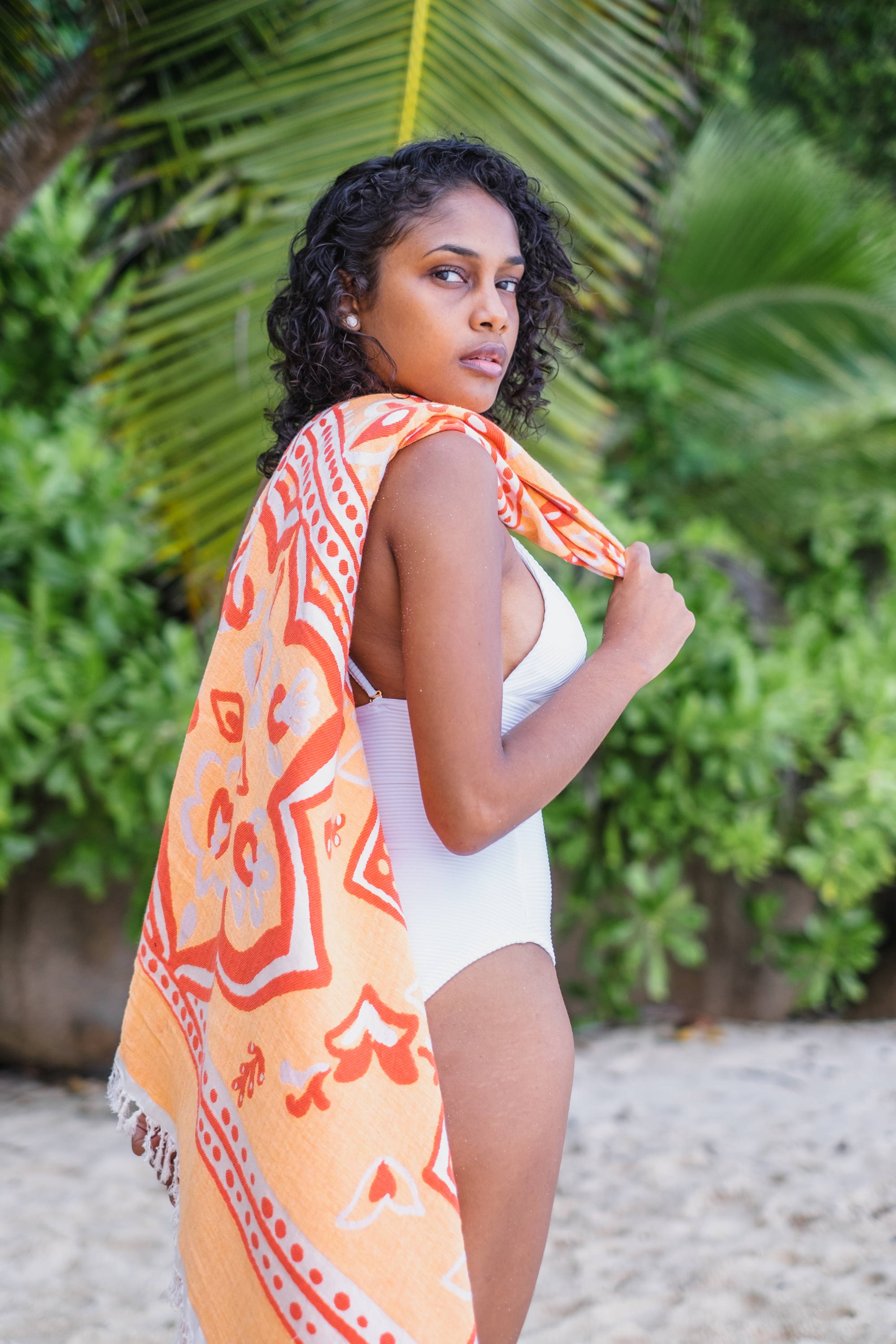 The first collection of beach towels is considered your signature collection. Why did you decide to focus on beach towels first?
Our idea had come from a material need we both had. Clemense lives by the beach. So, she was looking for a large, fancy beach towel she could rely on and use everyday! Leila wanted a beach towel that was as usable as a blanket or picnic rug, that she could enjoy on sunny weekends in London parks.
As we both like travelling, we wanted to create a large, lightweight beach towel that is easy to carry and can be used in any situation for any type of need! A durable beach towel that can last!
Why was it important to you that the COTTESEA collection be produced in France?
For nostalgic purposes, we decided to create COTTESEA remotely in order to stay connected to our native country. We also did it to promote French artisans. We are proud of our origins and heritage. COTTESEA's mission is to show the world that the French textile industry is capable of creating high standard products.
It was also important that all stages of the production were carried out in compliance with the highest social and environmental standards, as well as in compliance with the laws governing working conditions.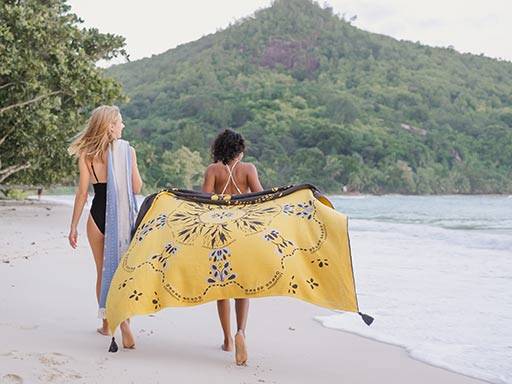 What steps do you take to limit your environmental footprint, and what are the areas you wish to improve?
At COTTESEA, everything has been designed to reduce the impact our products have on the environment at all stages of the manufacturing and life cycle. Our products are made of recycled and organic cotton. Our tags are made of organic cotton and even our packaging are made of recycled paper!
In terms of our commitments, we work according to the 3 eco-responsible pillars: "Reuse, Recycle, and Reduce".
Reducing: We reduce our ecological footprint! We do so by acting responsibly and reduce anything that could harm our planet. COTTESEA also wants to help reduce the amount of plastic in the oceans which causes an immense amount of collateral damage to marine life. To help, COTTESEA donates a portion of our revenue on sales of our tote bags to the Surfrider Association.
Reuse: We are currently working on a project to set up used towel donation events. These donations would go back to associations in third world countries. This project would help maintain the circular sustainable economy that is enriched in COTTESEA's business model.
Recycle: We use recycled materials in all aspects of product production, packaging and communication!
We wish to improve our shipment packaging. We are currently using recycled plastic envelopes. Although it is made of recycled plastic, we want to be 100% plastic free. We haven't found any solution yet, so any ideas are more than welcome!

How does COTTESEA support the NGO Surfrider?
As part of our environmental commitments, COTTESEA has chosen to support the NGO Surfrider. For every tote bag sold, a donation is made to the association.
Surfrider's mission is to preserve water quality and the health of users. They educate others on the ocean, climate and the fight against aquatic waste. Their presence is international, but their actions are local. An NGO dedicated to the protection of the oceans and the coast since 1999.
We have carefully selected this association, because we believe it personally is at the heart of today's ecological challenges. Investing in sustainable development is taking a step further to make our planet a little greener. We are proud to support the association NGO Surfrider!
The growing concept of ethical fashion can be quite difficult to define. What does 'ethical fashion' mean to you?
The textile industry is the second most polluting industry. Not only that, but it's the number one source of water pollution. This is a real issue, but also an amazing opportunity to change and improve the way things are currently done.
Ethical Fashion, in this sense, means that we need to be responsible when it comes to the choice of material we use in our production. Organic cotton still requires a lot of water, but at least soil is not polluted by all the pesticides from regular cotton. We are constantly looking for new solutions to be more responsible. We are also committed to educating people on the danger of pollution and the environmental problems we are facing. Especially plastics in the ocean!
Ethical fashion also means being responsible when it comes to the way clothes are produced. No spillage into nature and no use of toxic products! The manufacturing must be done in compliance with the laws governing working conditions, as well as a fair salary. Producing our products in France with durable fibers is expensive. However, setting up a company that doesn't respect our value is not right either!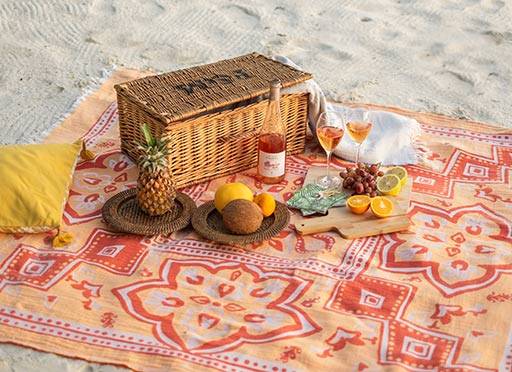 What is the design aesthetic of COTTESEA? Where do you get your inspiration?
Our designs are the inspiration and signature from all the travel we have done. Two like-minded travelers sharing their souvenirs on what they've seen and remember from different places. The architecture, sunsets, traditional clothing, food and so much more inspire us. It is a combination of all of it!
Where is your favourite place to hang out on one of your breach towels?
For Leila: I live in Clapham, London. So, when we are lucky enough to see a bit of sun, I run straight to the park to chill on my beach towel. I also love cycling to Battersea Park with my towel and set up a lovely picnic. Every time I am going to a festival, I am always with it too!
I am also using the model SAPHIR as a blanket on my sofa - it looks amazing!
For Clémence : I'm lucky to live all year in the Seychelles, by the most beautiful beaches in the world. I used my beach towel every day. Especially to watch the sunset or to go for a swim after work.
I also used the model ETERNITY as a blanket on my bed.
How would you like to see COTTESEA grow in the future?
We want COTTESEA to be a well-established and recognised brand for its value and quality products. We don't want to lose the trustworthiness of the company. We are not perfect, but we aim to improve and be the best at what we are doing!