As part of our founder series, we speak with Chris Walker about setting up Harfi with Sabrina Aich and their goal of empowering artisans around the world.
What was the inspiration for launching Harfi?  What were you doing before this? 
Sabrina comes from Moroccan descent and was aware of their long history of hand craftsmanship and the challenges the industry now faces with the growth of mass production. In order to try and preserve these traditions, we wanted to offer the artisans a wider market for their products so that they can live off their talents and continue to support their families. That being said, we flew to Morocco to pursue the idea further. The trip to Morocco really brought the idea to life. We were able to directly interact with the products and the artisans who made them. By giving customers over here access to these amazing handicrafts we strive to support local communities in Morocco by offering the makers a better standard of living through the increased demand for their items.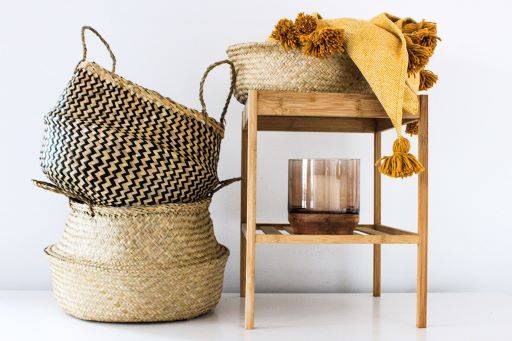 What does the name Harfi mean and why did you choose it to represent your brand?
"Harfi" is Arabic for "artisan". The artisans are at the core of everything we do at Harfi. All our products are handcrafted by talented artisans from developing countries, primarily Morocco, who have more often than not dedicated their entire lives to their craft. We wanted to provide a platform so that these artisans can continue to do what they love.
What types of artisans do you work with, and why is it important to preserve their craft?
We look for areas with a rich history of handicrafts. In Morocco, for example, handicrafts have always been engrained in their culture. More than 400,000 people work as artisans in Morocco with most having no formal training. Instead they use skills and techniques that have been passed down through the generations. Generally the artisans pool together to form a community, known as an artisan co-operative, whereby the business is run collaboratively and they collectively decide on what to make and how to make it. Harfi likes to work together with these artisan co-operatives so that we can combine traditional handcrafting techniques with contemporary designs that will be in high demand over here.
In an age of mass commercialism, traditional crafts and indigenous methods of making are being lost every day. We created Harfi because we believe talented artisans need a louder voice, and our homes will flourish through their savoir-faire. We embrace the small quirks that come with handmade goods, appreciating these traits as signatures of the personalities that go into making them.
How does Harfi help empower its makers? 
Primarily through employment and security. We aim to empower our artisans to use their traditional skills and techniques to reach a broader market and create better lives for themselves and their communities. Co-operatives are at the mercy of demand which can often lead to unfairly cheap prices, a lack of security and low employment for the artisans. By placing large orders on a regular basis Harfi can offer the artisans consistent work and fair compensation so they are able to sustain a better standard of living. To put it into perspective, it can take an artisan two weeks to produce one litre of argan oil, many hours to produce just one throw, basket or bag and over a month to produce just one rug so small increases in demand can make a huge difference to their lives.

The growing concept of 'Ethical Fashion' can be quite difficult to define. What does 'ethical fashion' mean to you?
For us, ethical fashion means good working conditions and fair wages for the makers. Running a business should not always be dictated by profit and it is important that the ones who make the products are treated fairly. Ethical fashion also means using materials and methods that are natural, sustainable and environmentally friendly.
What steps do you take to reduce the environmental impact of Harfi?
At Harfi, we overview the whole process from start to finish. We handpick natural and sustainable materials such as organic cotton, seagrass and natural dyes in our designs. Also, by supporting traditional handcrafting techniques and streamlining the supply chain process as much as possible, we are able to limit our carbon footprint.
What is your favourite piece in the Harfi collection? 
We absolutely love the Berber rugs! They can really transform a home with a unique sense of character and identity.

What are your top tips for styling a new home?
Make the house your own; a place where you can feel happy and comfortable. Don't feel the need to follow trends but rather use your own personal style to create a space that you feel at home in. Imagine the feeling you would like to create in the room and think about how you can create that feeling through different colours, textures, furniture and accessories. To create your own style you should not hesitate to combine a number of different styles. Plants are also a great way to add a bit of life and energy to a room. Most importantly, have fun with it!
What advice would you give to someone who is new to shopping with ethics in mind? 
It is easy and natural to always want to shop around for the "best deal" but often in these cases it is the margins at the bottom that are being cut. It is always worth being aware of where an item comes from and how it was made. Remember that by supporting slow fashion you are helping the makers, respecting the environment and getting something that is truly unique too.
How would you like to see Harfi grow in the future? 
Going forward we are excited to expand our product range further and support more artisans with plans to form new relationships in new countries such as India in the future.