As part of our founder interview series, we speak with Charlie Wright from Hopeful Traders about setting up a clothing label with social impact at its heart.
What were you doing before launching Hopeful Traders? What inspired you to create a streetwear brand with a positive impact?
I was working at sound studio in central London that did post production for advertising. I have always been acutely aware of how the situation I was born into had opened up so many opportunities for me. I had some money that I had inherited and I wanted to use it to share these opportunities. I also wanted to create a project that engaged the wider public with a social issue. Homelessness and mental illness are so prevalent and utterly surrounding in a place like London. I felt like a streetwear brand was a great way to engage people with a problem that goes on around them every day.
How does Hopeful Traders support artists affected by homelessness and mental illness?
I often say that it is the artists who support Hopeful Traders. It's a totally collaborative platform.
Our collaborators have all sorts of backgrounds. Some have been homeless in the past or are currently. Others have suffered acute mental health issues. All of them have been supported by charities or social projects and are keen to give back to them. Most our collaborators get a 10% of what their designs turn over. On top of that the brand acts as a place where the voices and stories of these people can be heard so as to give all people affected by similar issues a voice. These stories can inspire confidence in people going through difficulties or educate the more fortunate amongst us.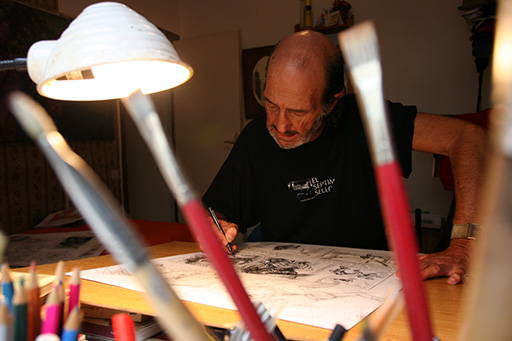 In addition to this, how does Hopeful Traders give back?
We usually also give the collaborator an opportunity to give an extra 5% of turnover to a charity of their choosing on top of the 10%. Some choose to donate their design so that more money can go into our work or a their chosen charity.
Why is supporting artists that face difficulty a cause close to your heart?
I have struggled to establish myself as a creative my whole life and that's with a million chances, leg ups and all the rest. Getting your work seen or monetised is tough for anyone but for someone struggling with financial issues or even just lack of confidence due to a negative experience of the world, are almost totally prohibited from succeeding in a creative path.
"Ethical fashion" is an extremely broad topic. What does 'ethical fashion' mean to you?
To me it means that the production process has taken measures to ensure a minimal impact on the environment and a positive impact on the people who have worked to create the piece. It can be difficult to say exactly where the line is in terms of environmental impact as all fashion has some impact, especially anything new, but the use of organic cotton is one thing that we can do to greatly reduce the impact on the environment.
The most important thing for me personally is that the person making it is not being taken advantage of. As anyone should, they should feel safe, happy and well compensated for their work.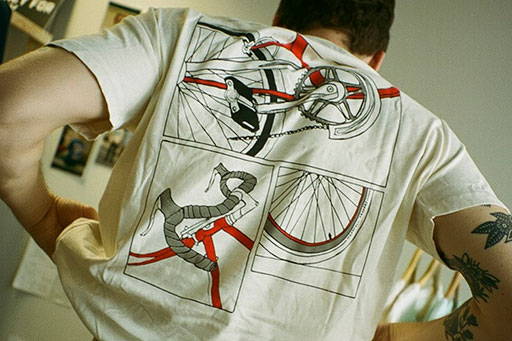 While it is clear you have a positive social impact, how do you ensure fair and environmentally conscious production throughout your supply chain?
Our garments are certified by the Fairwear Foundation who has a strict code of ethics when it comes to workplace safety, payment of living wages, and workplace regulation.
How would you describe the style of Hopeful Traders? Who do you envision wearing your brand?
The style is something that stands out as a little different, especially in the often muted and formulaic, ethical fashion world. Creativity is used for expression and I hope that people feel that their Hopeful Traders garments say something about them when they wear it. We do make some more simple plain things occasionally but we are known for bold prints and graphics that display an artistic flourish. Plain basics are nice but is that really all that ethical fashion has to say about itself?
What do you look for in other clothing brands you support?
I always champion other brands with a social mission at their heart and ethical production methods. But my favourite brands have to say something about themselves through their design that maybe other brands aren't saying. You should be able to see a piece and say oh that looks like 'this brand'. To do that a brand has to take a little bit of a risk in it's output otherwise it just blends into the background.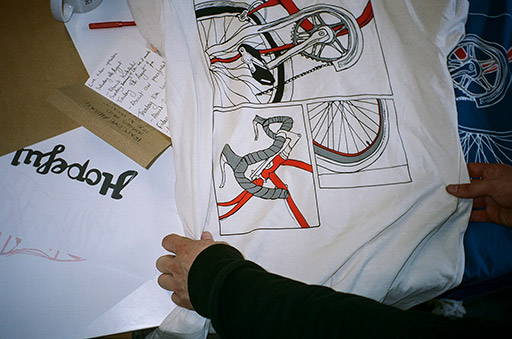 When you begin to feel "hopeless" about something, how do you get through it?
I've struggled with depression and anxiety for a long time but only really acknowledged it when it got quite severe in the last couple of years. Hopeful Traders has almost ceased to be many times. I am very lucky to have supportive friends and family around me to get me through. I have to acknowledge that again my privileged background has helped me greatly as I am able to afford a really great psychotherapist and have been able to take time off work when necessary without worrying too much about going hungry.
The inspiration to drive me forward comes from other people and brands that are working towards social impact. I'm lucky enough to know a couple of my own heroes personally and I get so much from those relationships.
How would you like to see Hopeful Traders expand in the future?
I'm always looking to expand on our output, not just in terms of fashion range but all sorts of creative projects that create debate and interest around social issues. I want Hopeful Traders to make people think about how the things they spend money and attention on in their lives could actually benefit the communities around them.
Also some famous influencer types wearing our stuff and getting us loads of sales would be nice :)