As part of our founder interview series, we speak with Denitsa and Gergana about the meaning behind the name blonde gone rogue and what ethical fashion means to them.
We love the name "blonde gone rogue"- tell us, what was the inspiration behind the name?
Figuring out the name was probably what took us longest before starting the brand. There were other options that sounded cool at a certain moment but then we would change our minds. How "blonde gone rogue" came to be was on a trip to Tokyo that we took a month before officially founding the brand. We were walking the streets of Harajuku, exploring the sensational fashion scene, when a blond guy crossed in front of us. His hair was some kind of neon yellow blond colour that you could probably spot from a kilometer. We said to each other: "Oh, that's a blonde gone rogue!". And there it was! It sounds cool, edgy and it holds this symbolic memory of the amazing adventure we had in Japan. It also has a note of rebellion that is very important to us as what we are doing with blonde gone rogue is going against the current unsustainable ways of fashion. We want to redefine these set practices that are exploitive of people and nature.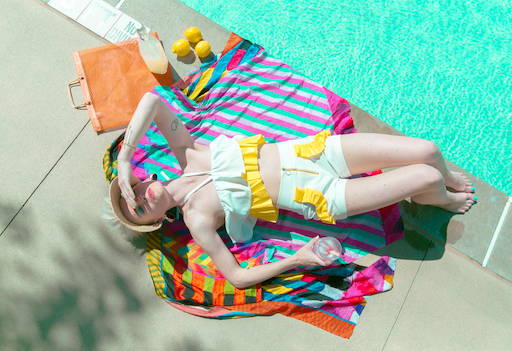 When did you first become aware of the environmental cost of fashion, and how did this impact your love of fashion and design?
Denitsa, the designer: That happened during my Erasmus semester at London College of Fashion. Our project for the term was a collaboration with H&M where we had to develop our collections entirely by deconstructing clothes from the H&M return initiative. Projects like this one challenge your creativity immensely and force you to find alternative approaches to your work. Throughout the semester we got a series of lectures on sustainability and fashion's impact on the planet. The facts were quite shocking and overwhelming. This is when I had to rethink my entire perception of what I want to do and how I want to do it. I shared this with my sister and her passion for sustainability also grew. So, when blonde gone rogue came to be, we knew sustainability was going to be one of our core values as it is also a personal value of ours. And it makes us love our work more. Because even though it makes everything so much more challenging, it is all worth it knowing that we are helping drive the change.
How would you describe the style of blonde gone rogue? Where do you get your inspiration?
Playful! We would like our clothes to be an expression of who we are - young, passionate and free. This is how we'd like people to feel when they wear our designs.
As for our inspiration - it could really be anything that makes us happy. Our favourite theme so far is Summer Escape for our Spring/Summer 18 collection. The idea of summer romance is something we might be coming back to in developing future collections.

What is your favourite design from the Sustain Me collection, and why?
Denitsa: For me it is the Wild Soul one. I feel it resonates the most with my wild side and I love the colourful outlines and animal prints inside the writing. But if I have to be honest, I mostly wear the white Sustain Me T-shirt with the girl lineart print. It is quite minimalistic and it's super easy to style with a pair of high-waisted jeans.
Gergana: My favourite is the Sustain Me T-shirt. I love the style as well as I get a lot of questions about it – where did I get it? What is the meaning behind 'sustain me' as part of the print on the tee? It allows me talk to talk to people about the mission of our company and how important is sustainability in fashion. Very often I hear back "Oh really! I didn't know!". It just helps us spread the message.
What is "The Blonde Chain" and why is it important to you to share this with your community?
The Blonde Chain is our operations transparency initiative. It is a space on our website where people can find information about who we are, who we work with and the materials we use. We are currently developing it as an interactive platform where customers will have easy access to all sorts of information about our brand operations. It is essential for us that we are not only 100% transparent but all information is easily accessible by everyone. All that our customers might want to know will be within a few clicks.
"Ethical fashion" is an extremely broad topic. What does 'ethical fashion' mean to you?
For us a garment that is "ethical" is a high-quality piece that is going to last many seasons, it is made by people who work in good conditions, are paid living wages and are treated with respect, the materials used for this garment are responsibly cultivated and processed with minimum negative impact on the environment. The latter could be quite tricky because there is a lot of contradictory information about fabrics and their environmental footprint. There is no single material that is perfect - all fibres need some kind of resources to be cultivated and they go through different processes. At the moment we are concentrating on finding materials that are better solutions like using upcycled or recycled textiles. In our latest collection, we are using a lot of factory leftover materials from previous productions. In a way, we are transforming what is going to be garbage into new, beautiful styles.

What do you look for in other clothing brands that you support?
Honesty and authenticity. We love brands that have their own unique touch and meaningfulness behind their pieces. It makes a garment so much more precious when it has a story or an interesting process. When it comes to sustainability, we really appreciate honesty. There are many brands that praise themselves as being sustainable but if you actually look into the materials, quality and where the clothes are produced their sustainability seems a bit exaggerated. We are all in this journey together, so we think it is important to be honest.
What advice would you give someone who is just starting out on his or her sustainable fashion journey?
Don't be shy. Check the labels and ask questions. Contact the brands you shop from and ask them everything you want to know about your clothes. Remember that you are their customer and they should provide you with the information you need. It is so important that customers demand transparency because then brands have to listen. That is the most certain way to reach sustainability.
What is a typical day like for you at blonde gone rogue?
The great thing about building your own brand is that there aren't really typical days. It is quite a lot of traveling and meeting new people all the time. But because there is so much to be done, we have to be efficient and the scene changes quite fast. It is very dynamic, which we probably enjoy the most.
Lastly, how would you like to see blonde gone rogue expand in the future?
We aspire to be a positive catalyst in the fashion industry and we don't plan to stop learning, growing and improving before we see the consumers and the industry move towards becoming overwhelmingly sustainable.
We are working hard on reaching more people and building a strong connection with our audience. We also want to expand our product range in the future by collaborating with textile innovators and going into accessories, swimwear, and menswear.