As part of our founder interview series, we speak with Aneta Pruskova from ADVA about creating an honest fashion label in London, with a Czech soul.
How would you describe the style of ADVA? Who do you envision wearing your label?
Timeless. Sophisticated. Versatile. Seasonless. Minimal. My vision is to create elevated essential pieces for any woman. ADVA pieces are variable and can be styled in many different ways. I see women of various ages wearing ADVA, because age should not be an "issue". ADVA started with an essential sweatshirt collection. And guess what, my 15 years old sister has one as well as my 74 years old gramma, and that is the beauty of it.
Why is it important to you that sustainability and ethics are at the core of your brand?
When I started ADVA, it wasn't only about making quality clothing but mainly to share a message about the way we live and about the things most people don't know anything about– meaning the issues within the fashion industry. That' s why I believe it's important to have the sustainability and ethics at the core – to give people the information and to have them learn something useful.

What is the meaning behind the name ADVA?
ADVA means family for me. When I decided to establish my own label, I knew I want it to be different, I knew I wanted everyone involved to feel like family. The name ADVA is based on my name Aneta and on the names of my two loving sisters.
Ethical fashion is an extremely broad topic. What is your definition of 'ethical fashion'?
Ethical fashion for me, personally, means "honest" fashion. To be honest to our team, to our employees and to our customers. Be honest about our production process, to be honest to the planet in a way of minimizing the impact we cause throughout our lives.
How does ADVA embody your understanding of 'ethical fashion'?
Firstly, we know as much as we can about our suppliers, our fabric makers, our seamstresses etc. Then we share this piece of information with our customers. When somebody purchases our product, we give them the full story - where that particular piece comes from – from the fibre, to the supplier and finally to the name of the maker who put it all together. We also give the customers information what to do with the product when they stop wearing it – if it can be recycled, if it's biodegradable, etc.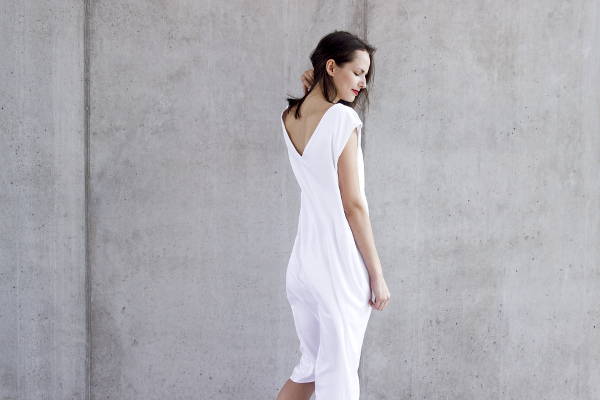 Bamboo Silk can be a controversial material as it must undergo the viscose process. What are your thoughts on this, and how do you choose which materials to work with in your collection?
Bamboo Silk or Bamboo viscose is not the most perfect material to work with in terms of sustainability, we know that. That is why we make sure that the one we work with has all the certificates, so we know it's not harmful. We are currently working on replacing the bamboo silk with materials such as peace silk for example. The main goal that stretches ahead of us now is that we want to work only with materials made in Europe. So, when deciding on which material to use, we need to know that the suppliers can share with us as much info as we need – the origin of the fibre, where the material is being produced and what certificates the material holds.
Where do you produce your collection? How do you ensure high ethical standards for the makers of your clothes?
We produce our collection in the UK. The whole process - from sampling to final production. I visit our makers as often as I can – usually once a month. We try hard to make our production happen locally, most of the time we cooperate with a small production studio in London.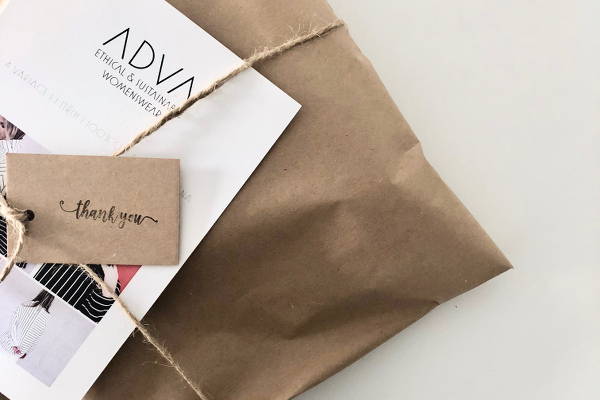 How do you try to live more sustainably in your personal life?
Sustainability has always been a big part of my personal life. I grew up in a small village, we had a garden where we grew our own veggies and fruits and my mum has sewn clothes for us when we were little. When I moved to a big city, I realized that it's a bit harder to keep up and think sustainably. I had to find the right resources - I regularly visit our local farmer's market, I think about the things I own and buy, I recycle on daily basis, I don't own a car and I walk a lot. There is a lot of small things you can do to make your life more sustainable.
What do you look for in other fashion brands that you buy from?
I look for a quality – meaning the material and the way the product is made. I also look for the story behind, because that is what makes the product a bit special. And I like supporting local brands and small ethical designers.
How would you like to see ADVA grow in the future?
I would love ADVA to be running in an even a more sustainable way. As I mentioned earlier, working with materials locally made. We also have aspirations to expand to the US, which brings along a lot of challenges - with production and materials, but we are very excited!