As part of our founder interview series, we speak with Adrian from Airpaq about a class project and trip to a scrapyard that started it all.
How did a University project set the stage for Airpaq?
Michael and I studied Entrepreneurship at the RSM in Rotterdam, The Netherlands. During one of our first assignments of the Master we visited a scrapyard because we wanted to create something from waste. We experienced the scrapyard as a very inspiring place and still do when we visit them today. While wandering through the vast maze of stacked cars we stumbled across an exploded airbag and a couple of seat belts. The durability, the feeling and the shape of this material elicited in us the image of a bag or backpack. The events took their course and the base of our idea was created. We took an airbag home, and despite having never sewn a single stitch in our entire life, we started sewing the first prototype that very same day. We presented it already the next day in class and got a lot of positive feedback from our classmates. This motivated us to continue and we could use and work on the project in several following courses.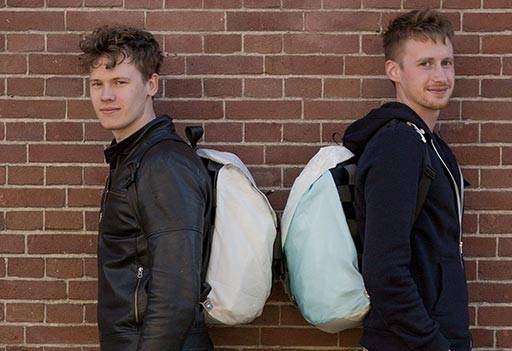 What made you want to focus on upcycled materials for Airpaq?
We wanted to focus on upcycling because we are really passionate about the idea of creating alternative uses for discarded items. We believe it is an amazing concept because on one side it is very sustainable and probably the most efficient way of reusing waste. But on the other side also because upcycled products have a fascinating story and an absolutely unique touch and charm.
It seems like you have taken great care in the design evolution of Airpaq. Did you have experience in product design before this?
We absolutely did not have any design experience, and that is why it took us so long to develop our first product. There was a lot of bloody thumbs, long nights and broken needles until we finally reached a design that we were happy with. It all was pretty much learning on the job. Having no experience means also being absolutely free and having the kind of "out of the box" thinking that it may have needed to design such an unconventional product.
You started off creating the first prototypes of Airpaq at your house with an old Singer sewing machine. Where are Airpaq bags produced now, and how do you ensure transparency and accountability throughout your production?
Luckily our Airpaqs are not produced by us and our old Singer machine anymore. It was a charming start; however it is good that we entrust the production now to some highly skilled professionals. All our products are being produced in Romania. The European production site comes with many advantages. For one the EU environmental and social regulations already set a good environment to ensure a fair and sustainable production. Certificates like the ISO9000 and the SA8000 are absolute standard over there. Our luck however does not stop there. The production site where Airpaq is produced was founded by Michael's father over 20 years ago. The close ties to the production factory give us an absolute transparency over all working conditions. We can basically walk in anytime we want, to ensure that the production meets our standards – and we do! Besides the working conditions the Romanian site comes with the advantage that our production facility is less than 40 miles apart from one of Europe's biggest airbag manufacturer. From this manufacturer we receive most of the scabbed airbags. We therefore do not need to ship the materials long distances and can assure a very small ecological footprint for our process.

All of the Airpaq models have tons of unique features. What is your favourite Airpaq bag and feature?
My favorite feature is clearly the buckle to close and open the Airpaq. It does not happen rarely that people stop me in the street to ask about the backpack. It makes every Airpaq very special and is the perfect tool to transport the message of upcycling/recycling in subtle yet very clear way.
Do you think that it is the durability, or the sustainability, of Airpaq bags that is most appealing to your customers?
I think it is the sustainability and the whole story behind the product. Although I would also argue that durability is a form of sustainability. Products that last long do not need substitution and ergo save recourses.
"Ethical fashion" is an extremely broad topic. What does 'ethical fashion' mean to you?
To me ethical fashion means that anyone who is involved in the creation of a product should be able to live a happy and good live. Working conditions, working environment and wages must have a standard in support of this.

What is like to run a company with a good friend?
Sometimes I feel a bit like we are still in university and working on an assignment. I never had this clear cut between student life and all the seriousness of entering professional life. I think the reason for this is really because it's always a very casual and fun atmosphere between Michael and me. It often really feels more like two friends hanging out than working, even if we do something annoying; like taxes. A joke here and there and some music in the background make even the bureaucratic tasks enjoyable. I believe this is the advantage of working with a friend and it probably is a big one at such an intensive and early stage of a company.
What advice would you give to other young entrepreneurs starting out?
Don't overthink and just begin your journey. Through this project I learned that it is sometimes really helpful to just find a start and continue from there. We had no designing or sewing background whatsoever and still we managed to design and eventually sell a backpack – all by ourselves. If I would have back then started to think "can I really design or sew a backpack that people would eventually like" I probably would have come to the conclusion that I could not. I, however, never really asked myself this question and just started to sew because it was fun and it felt right. The good news is, it worked out, and so it can for you!
How would you like to see Airpaq expand in the future?
There are many Airbags out there that are waiting to be upcycled or as I prefer "reinCARnated". We basically do not have a limit when it comes to the source of our material, so the more products we manage to produce and sell the less waste remains. I therefore wish that Airpaq keeps on expanding as long as growth does not jeopardize our values and the joy we reap from our venture. There are many ways we could expand, be it through new products or markets. I do not want to overthink it now. :)